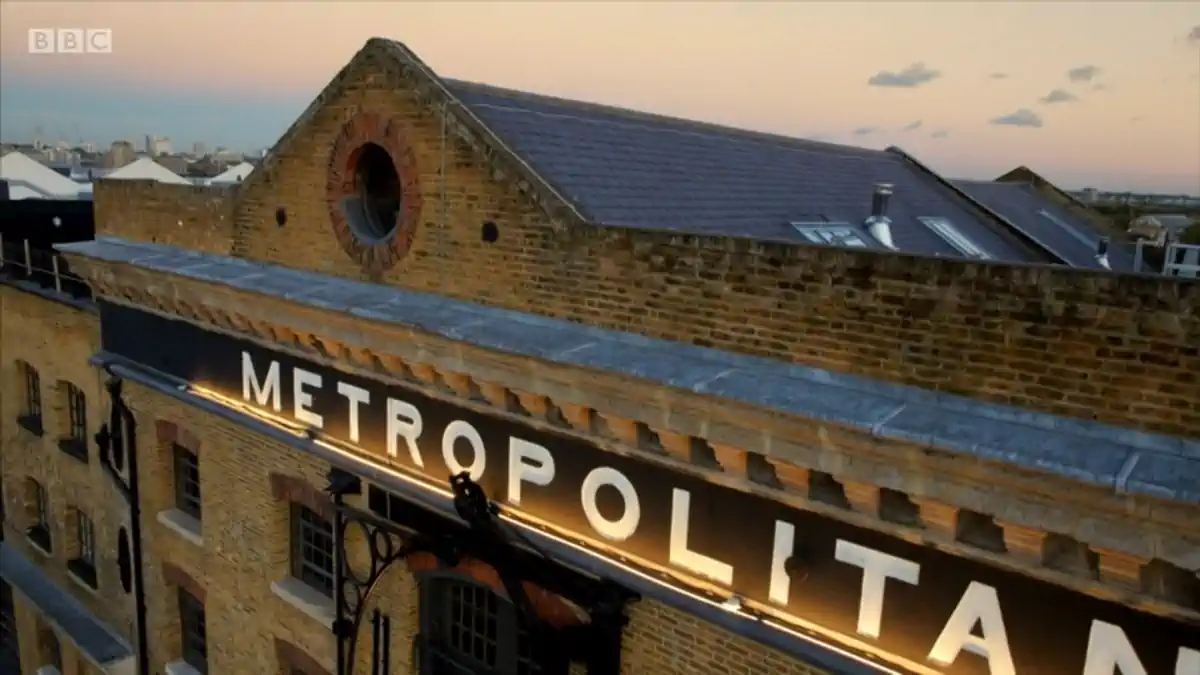 The Great British Sewing Bee Location - Season Two
In the second season of The Great British Sewing Bee, Claudia Winkleman hosts and May Martin of Denman College (the Women's Institute) and Savile Row's Patrick Grant judge the contestants. 
The Great British Sewing Bee Location - Season Two
Season 2 of the BBC reality television series, The Great British Sewing Bee was first broadcast in 2014 and was filmed in Metropolitan Wharf in the East End of London, 70 Wapping Wall, London, E1W 3SS. The wharf consists of five 19th Century warehouses on the banks of the River Thames, which has since been converted into work spaces and apartments.
The contestants can be seen taking refreshments at the now defunct "Gastronomica" café at 73 Garnet St, London E1W 3QS.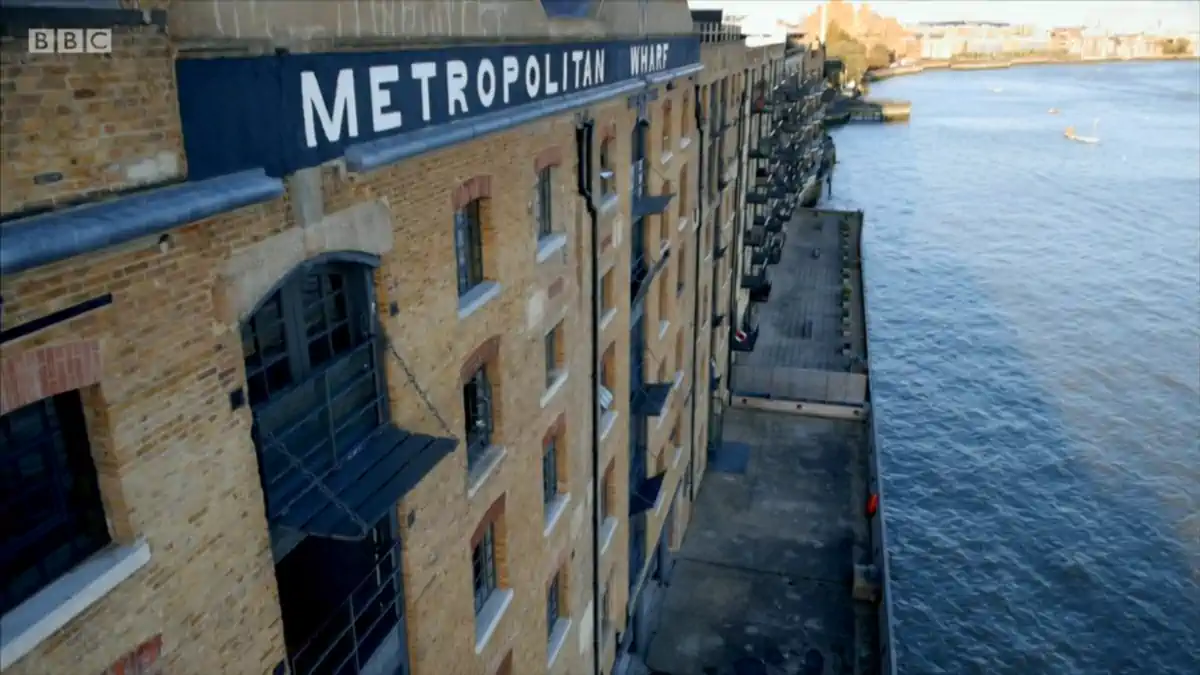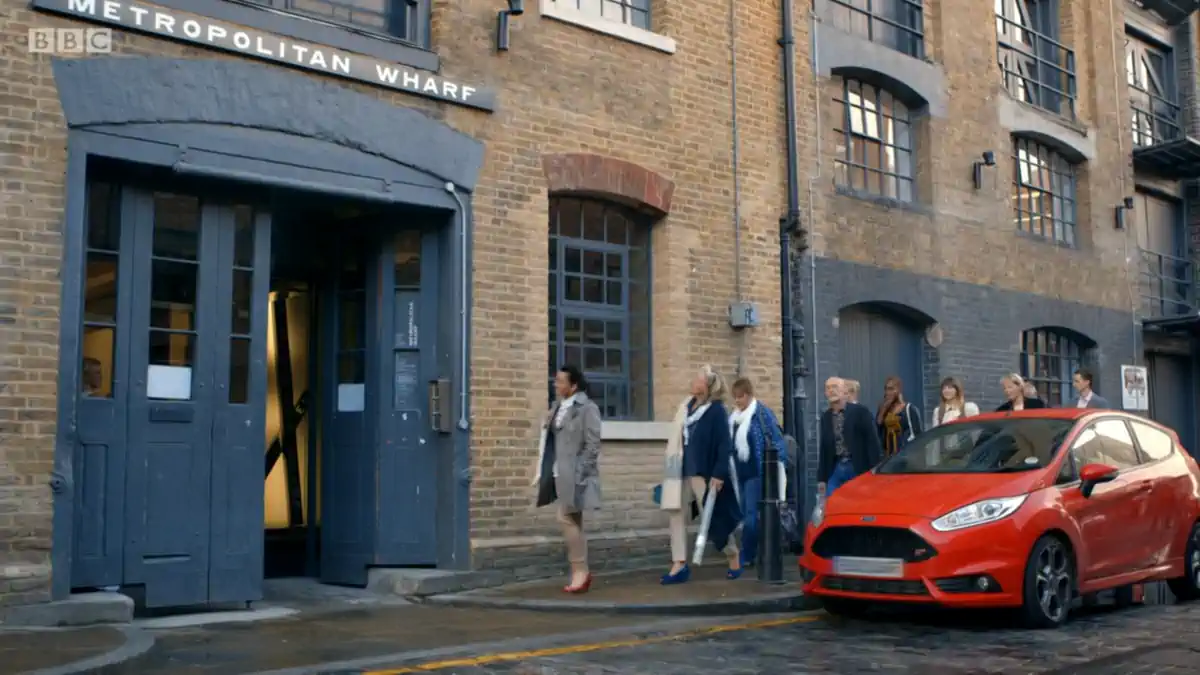 The contestants were:
Cerina - Cerina Nichamin, lives in Hampshire with her husband, two daughters, two dogs, two goats and chickens, and has been sewing for almost 40 years.
Chinelo - Chinelo Bally, a Nigerian-born recent media graduate, living in Essex, has been sewing for two years/ She was taught by an aunt, and makes all of the clothes for her church choir, as well as having made "dozens" of outfits for herself and her sister.
Cliff - Cliff Edwards, who took up sewing three years ago when he retired from his position as a Buddhist prison chaplain.
David - David Dawson, a police constable at Scotland Yard, the headquarters of the Metropolitan Police.
Heather - Heather Jacks, a dressage instructor, lives in Leicestershire with her Royal Medical Corps officer husband, and has been sewing almost 40 years, including making her own wedding dress.
Jenni - Jenniffer Taylor, a resources manager at a software company in Walsall, who first started sewing by making her own wedding dress. She is the lead singer in a band in which her husband also plays.
Julie - Julie Grommet, a housing estate officer in West Yorkshire and mum of three.
Lynda - Lynda Lewis, a learning support assistant at Billingshurst Primary School, Welsh by background but now living in West Sussex, she is deaf and a signer was provided for her. She was encouraged to enter the competition by her daughter, Sarah, for whom Lynda made both her prom and her wedding dress. She bought her first sewing machine shortly after Sarah was born.
Simon - Simon Cantrill, a weaver who works in the Bradford Industrial Museum housed in Moorside Mills, Bradford being the centre of much of the UK's textile and garment industries.
Tamara - Tamara Melvin, a children's entertainer and yoga instructor, lives in Surrey with her husband and two children and has been sewing since she was ten years old.
The contestants were challenged to make and alter garments including a sleeveless tunic top, long woollen skirt, a silk nightgown, a skirt with box pleats and lapped zip, men's pyjamas, leggings, a wrap dress in stretch fabric, child's dungarees, child's fancy dress, a prom dress, anorak, velvet trousers, a 1930's blouse, a vintage coat, a necktie.
Historical background details were provided on The Huguenot Weavers, Chintz, Lycra by experts such as Dr Kaori O'Connor, Debbie Moore OBE (Pineapple Dance Studios), Amy Miller Curator of Decorative Arts at the National Maritime Museum, Clare Rose historian at the Royal School of Needlework, Dennis Nothdruft, curator at the Fashion and Textile Museum, Jenny Tiramani from the School of Historical Dress.