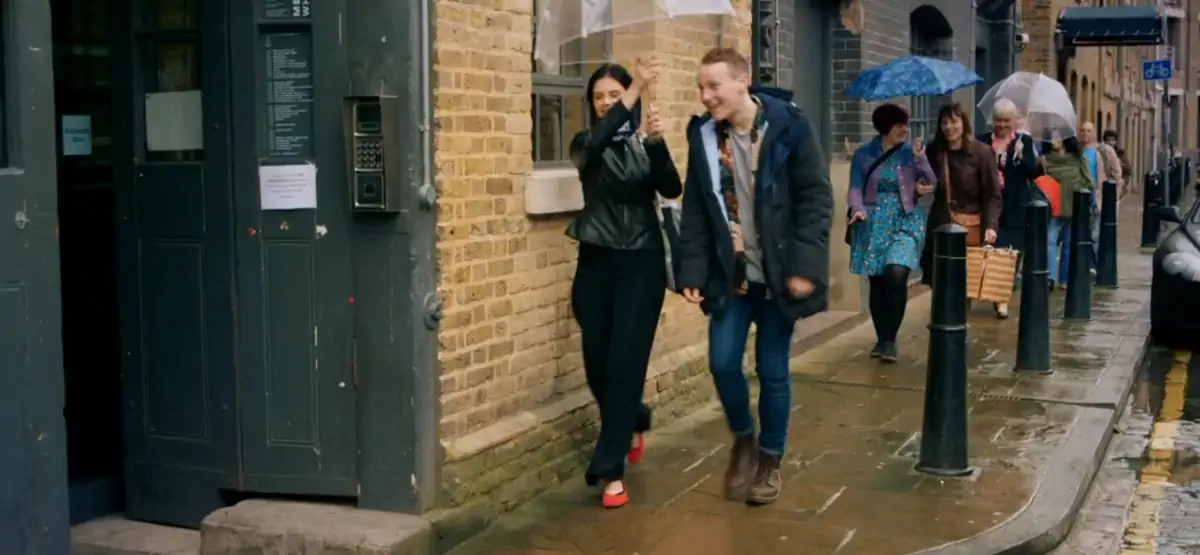 The Great British Sewing Bee Location - Season Three
In the third season of The Great British Sewing Bee, 2015, Claudia Winkleman hosts and May Martin of Denman College (the Women's Institute) who trained initially at St Osyth's college, and Savile Row's Patrick Grant from Norton and Sons, judge the contestants. 
The Great British Sewing Bee - Location - Series Three
Series 3 of the BBC reality television series, The Great British Sewing Bee, first broadcast in 2015, was filmed in Metropolitan Wharf in the East End of London, 70 Wapping Wall, London, E1W 3SS, which has since been converted into work spaces and apartments.
The contestants can be seen taking refreshments at the now defunct "Gastronomica" café at 73 Garnet St, London E1W 3QS.
The contestants in The Great British Sewing Bee Series Three are:
Amanda - Amanda Gledhill, a deputy head teacher of a primary school in Darlington.
Alex - Alex Florea, a Romanian corporate strategist who has made her own mannequin.
Annie - Annie Shanks, a dairy farmer and cheese maker from Jedburgh, Scotland, who took up sewing while at school.
Deborah - lives in Manchester, who made her own wedding dress and hand-embroidered the invitations, and has been sewing since childhood.
Lorna - Lorna Monje, a finalist, a retired airline cabin crew member, who lived in Kent and died of aplastic anaemia in early 2016.
Matt - Matt Chapple, an IT consultant and finalist who lives in Berkshire who has only two year's sewing experience.
Neela - Neela Mistry-Bradshaw, an IT marketing professional who lives in Surrey and has been sewing since she was 8 years old.
Neil - a Lieutenant Colonel in the Royal Electrical and Mechanical Engineers who has been in the British Army since 18 and has been sewing since he was 12 years old, although in earnest from his university days. He finished making the bridesmaids dresses for his wedding on the morning of the big day.
Paul - Paul Clarke, a sports physiotherapist who lives in Cheshire and has been sewing since the age of 20 giving him 40 years of experience.
Ryan

-

Ryan Walklett

a 20-year old living in Swindon, who started sewing at the age of 7.
The contestants were challenged each week to make a piece of clothing, including women's trousers with an invisible zip, a summer dress, a child's waistcoat, fancy dress costume, a 1950's "walkaway dress", a sheer blouse, a boned corset, a kilt

and the radical alteration of a denim shirt, of a dress, a 1980's power suit, and T-Shirt, all designed to test their creativity and execution under time pressure.
Alongside the competition, the TV programme provided historical details of fashion provided by experts including Tim Long, Fashion Curator at the Museum of London, fashion historian Rosemary Hawthorn, sociologist Dr Kat Jungnickel, Tony Glenville, Oriole Cullen, Fashion Curator at the V&A, and Hilary Davidson, member of the Worshipful Company of Arts Scholars.