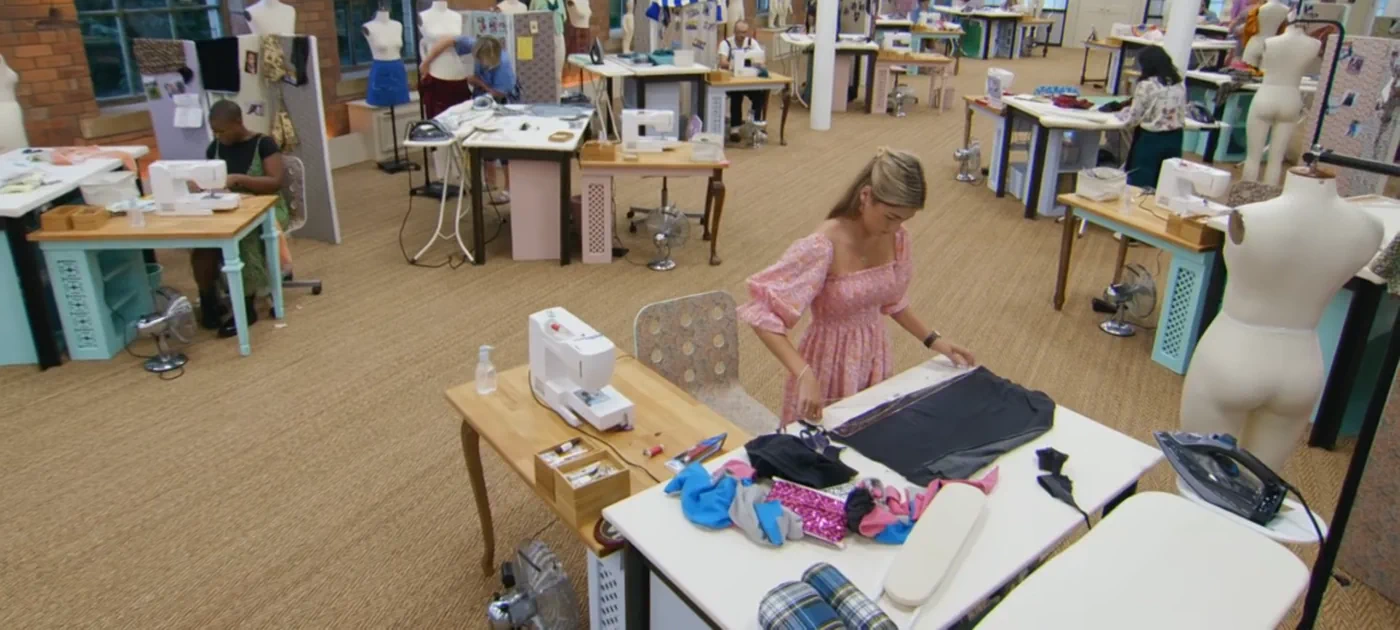 The Great British Sewing Bee - Season Eight
The Great British Sewing Bee - Season Eight
Season 8 of the BBC reality television series, The Great British Sewing Bee (TGBSB), first broadcast in 2022, was filmed in an early 19th century woollen cloth mill complex Sunny Bank Mills in the town of Pudsey located between Bradford and Leeds approximately 200 miles from London. Street address is 88 Town St, Farsley, Pudsey LS28 5UJ. The filming took place in the 1912 Building / 1912 Mill.
In the eighth season of The Great British Sewing Bee, 2022, actress and comedian Sara Pascoe hosts and Savile Row's Patrick Grant and fashion designer Esme Young of Central Saint Martins, judge the contestants. We learn that Sara Pascoe's husband has over 200 pairs of trainers, and that Esme's father captained the Wasps rugby football team and she made the shirts worn by Leonardo DiCaprio in Baz Luhrmann's movie Romeo and Juliet.
The contestants take refreshments close to the main filming venue. Historical details were provided by fashion historian Amber Butchart,
The technical challenges included a wool mini-skirt with two piped patch pockets (2 hrs 45) (won by Angela), a pair of high-top trainers (4 hrs) (won by Man Yee), a shirred midi summer dress (3 hrs 30) (won by Brogan).
The transformation challenges included turning loungewear into a glamorous going-out top (1 hr 30) (won by Marni), netball outfit into a glamorous daywear garment with pleats (1 hr 30) (won by Brogan), hammocks into an adult summer garment (1 hr 30) (won by Angela).
The made-to-measure challenges included a wrap dress (5 hrs) popularised by Belgian designer Diane von Fürstenberg in the 1970's (garment of the week from Debra), a jacket inspired by a sporting hero (5 hrs) (garment of the week from Marni), a two-piece co-ordinated trousered outfit (5 hrs) (garment of the week from Debra).
Filming and staff members include: Fiona Parker - Sewing Team and Fabric Buyer, Hannah Mellows - Production Coordinator, Hannah Riordan - Contestant Runner, Kirsty Podlaski - Casting Researcher, Montana Bent - Casting Assistant Producer, Natasha Chinyenze - Studio Runner, Rebecca Cole - Specialist Associate Producer.
The 12 contestants in The Great British Sewing Bee Season Eight were:
Angela - an award-winning school nurse in Lancashire with five grandchildren aged 1 to 6, who started making all her clothes 45 years ago when training to be a nurse. She is a member of the Women's Institute.
Annie - a 32 year old from Surrey who lives with her boyfriend Dan, and who is a junior fashion buyer for a UK retailer and was taught sewing by her grandmother, Monica, who is from Ghana. She has a passion for vibrant colours and for roller skating.
Brogan - a modern languages teacher in a senior school near Burton upon Trent, originally from Edinburgh, who now lives with her fiancé in Leicestershire.
Chichi - a research analyst and molecular biologist living in Surrey. Chichi was sent home at the end of episode two, having come 9th in the technical and 8th in the transformation challenge.
Cristian - a fashion store manager living in Liverpool who grew up in Romania close to Dracula's Bran Castle and learned to sew from his mother.
Debra - a native Welsh speaker, who lives in Llanfairfechan, Conwy, North Wales, and loves to show off her glamourous self-sewn clothes at work at a medical manufacturing facility, where she is a PA. She regularly takes early morning spin classes. She won Garment of the Week in week one.
Gill - a public health intelligence analyst, who lives in Doncaster with husband Darren, and who was inspired to take up sewing by her great-grandmother, Ivy, who was always immaculately dressed and made clothes for herself and her family.
Man Yee - a pensions actuary living in London, who started sewing at the age of 12, at first to make costumes for Comic Con in London, likes bouldering with her competitive friends.
Marni - a veterinary surgeon based in Torquay, Devon and former member of the Army Reserve. She won Garment of the Week in week two.
Mitch - a theatre manager who lives in Cumbria, who started sewing during lockdown and has played in an ABBA tribute band with his girlfriend (now wife) Lisa. Mitch was sent home at the end of the first episode after coming last in both the technical challenge and the transformation challenge.
Richy - a baker who lives in Shrewsbury with his partner, Dave, he loves and recreates historical garments and undergarments, including over 50 bowties. Richy was sent home at the end of episode three, having come 9th in the pattern challenge and 6th in the transformation challenge.
Steve - originally from Essex but now living in Newcastle with his girlfriend, a 100km ultra-marathon runner and working as a running coach, a Millwall FC fan who took up sewing during lockdown.