The Great British Sewing Bee - Season Six
The Great British Sewing Bee - Season Six
Season 6 of the BBC reality television series, The Great British Sewing Bee, was first broadcast in 2020 and filmed in a former tannery, 47-49 Tanner Street, London, SE1 3PL, which once supplied clothing manufacturers across Britain and the British Empire. The contestants take refreshments at Pique Nique close to the main filming venue.
In the sixth season of The Great British Sewing Bee, 2020, Joe Lycett hosts and Savile Row's Patrick Grant and fashion designer Esme Young of Central Saint Martins, judge the contestants.
The challenges were:
S6E1 Wrap skirt with waistband
Made from six pattern pieces, two darts, two buttons and two rouleau loops. Emerged in the 1920's and inspired Diane von Furstenbergs legendary wrap dress in 1974. Esme strongly suggests avoiding using a stretchy fabric.
First, darts are inserted into the back, side panels are attached along with a waistband and two rouleau loops. Finally buttons are added before the front of the skirt is top-stitched. The front hem is angled.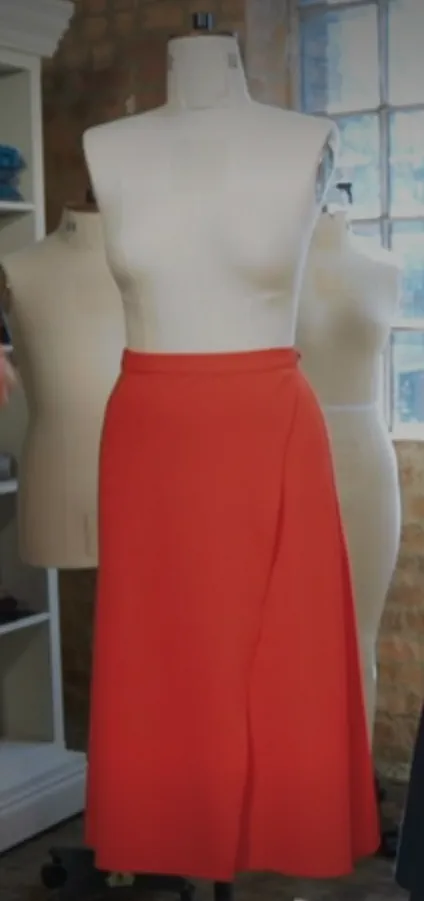 3 hr 30, Nicole in last place, and won by Peter.
S6E1 Transformation of a man's office shirt into a woman's garment.
90 minutes. Angillia came last and Peter won.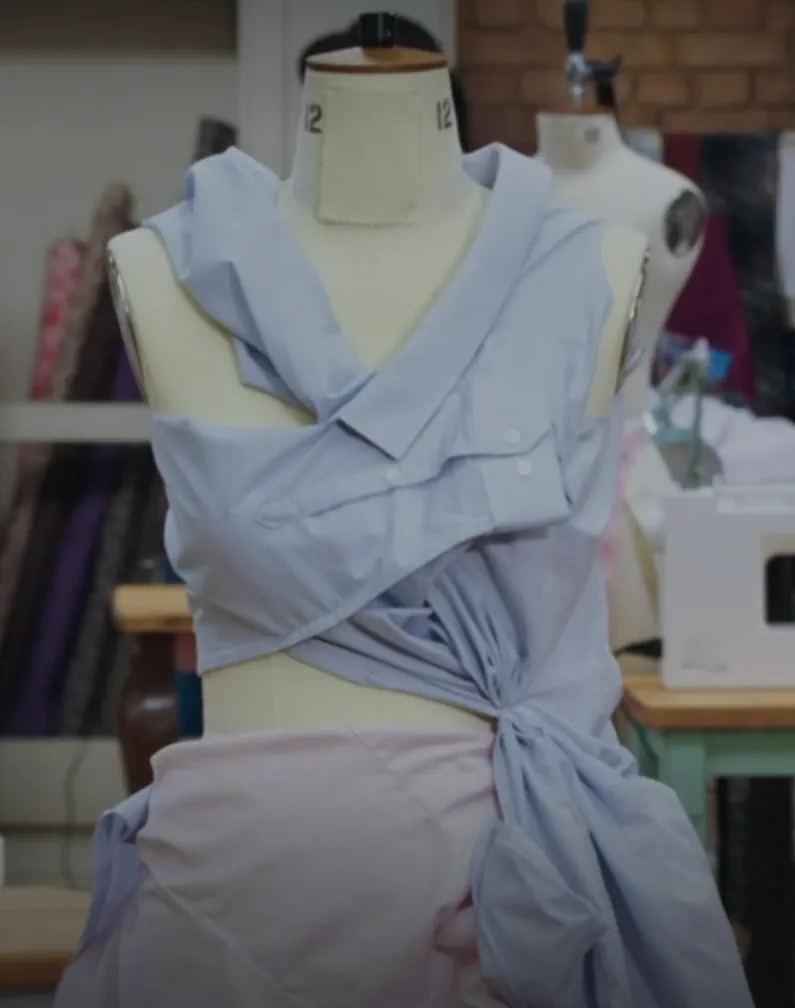 S6E1 Tea Dress
Made-to-measure challenge to create a Tea Dress in 5 hours. Tea Dresses came to prominence in the 1940s combining a modest neckline and length with an understated elegance, casual enough to be worn in the day, suitable for dancing in hotel Tea Dances but chic enough for entertaining at night. Garment of the week by Matt.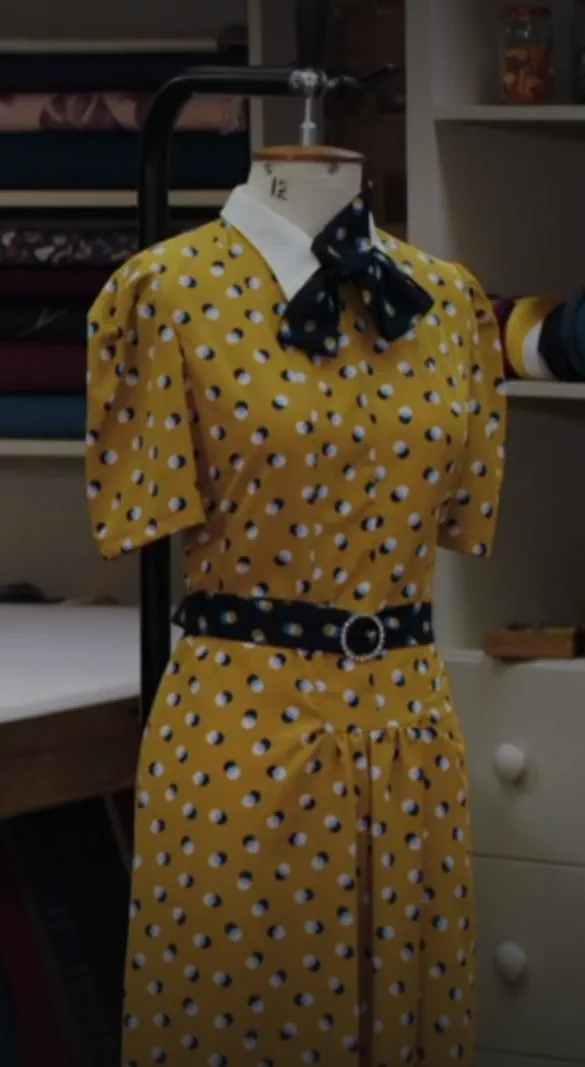 S6E2 Palazzo Pants
The palazzo pant is a long woman's pant that flares gently and gracefully from the hip, often with a bold print, with an invisible zip at the back and pockets in the side seam. They were the invention of Coco Chanel in the 1930s and proved a hit with the jet-setting glitterati holidaying in the Med. They are similar in shape to a judo or karate pant. Contestants had 3 hours 30 for this challenge.
Palazzo pants are made from 10 pieces of fabric. First an invisible zip is attached to the centre-back seam, then concealed pockets are attached to the side-front and side-back leg pieces, before the seams are stitched together. Four reinforced pieces form the waistband, finishing off the pants.
Won by Ali.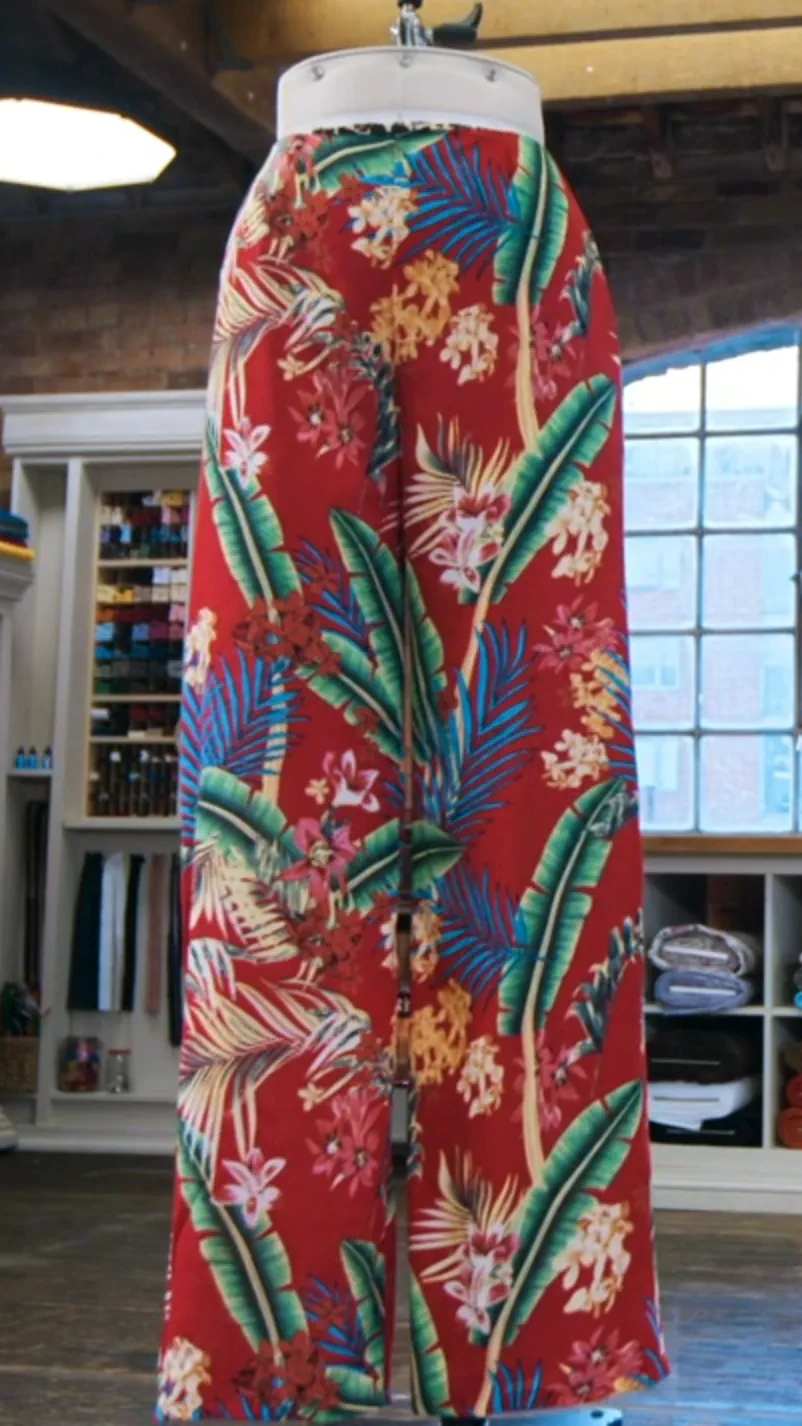 S6E2 Transformation of towels into a beach outfit for a woman
90 minutes. Matt in last place and won by Peter.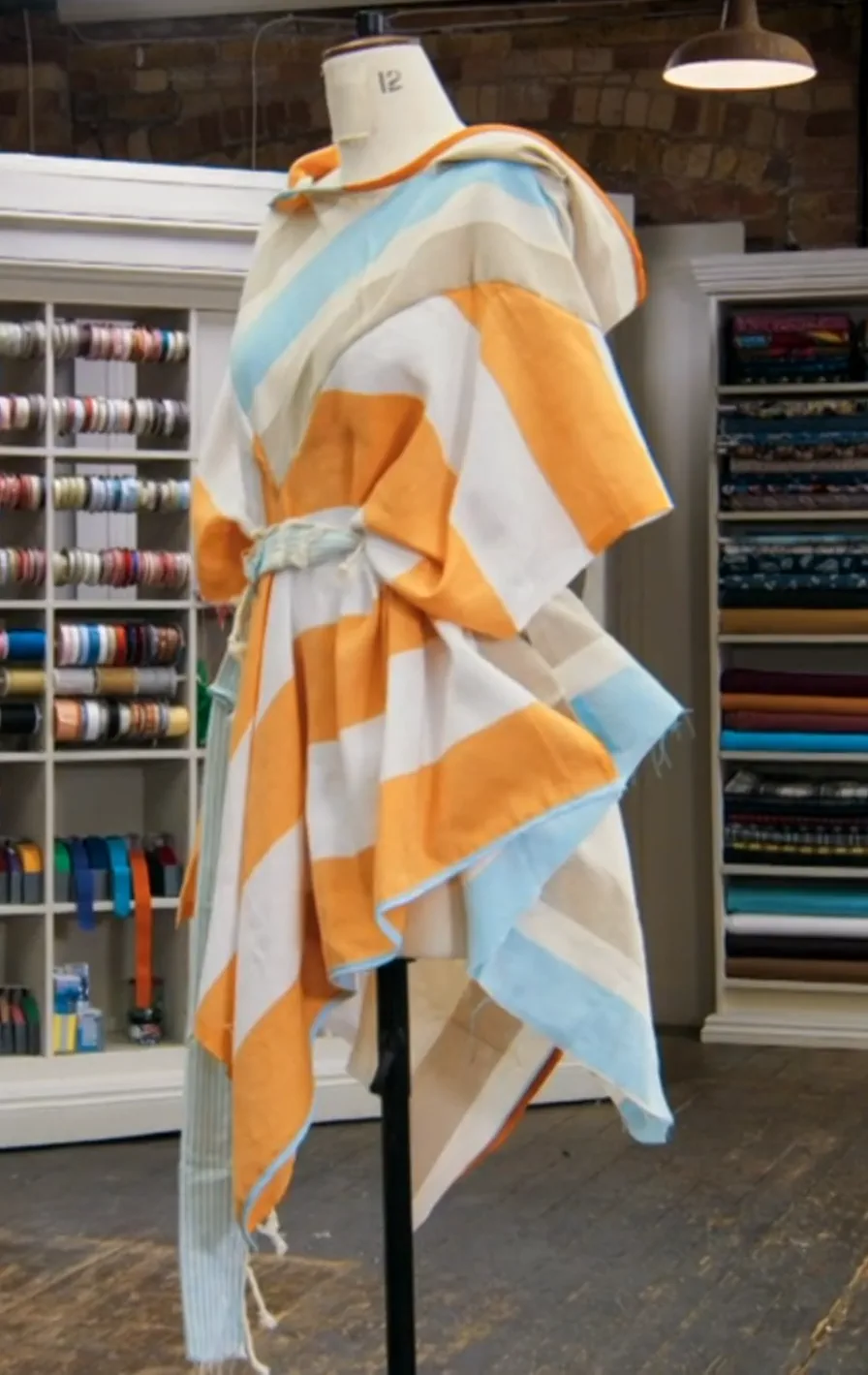 S6E2 Summer holiday shirt for a man
Made-to-measure challenge in 5 hours. Garment of the week by Mark. Alex left the show.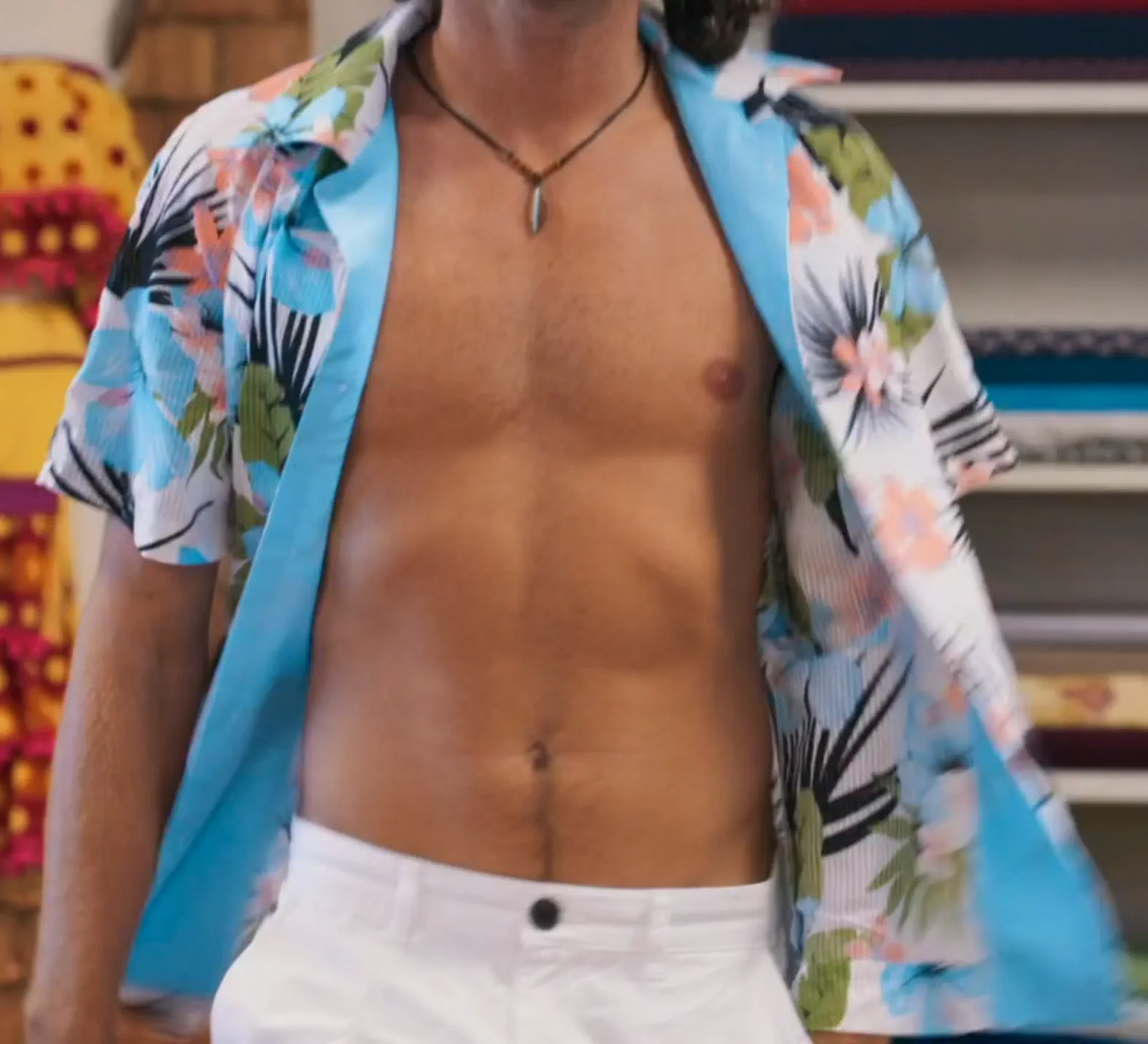 S6E3 Children's Week - Smocked Dress
A child's smocked dress with visible decorative stitching between the lines of gathering. 3.5 hours. The sewers need to find a fabric that can be easily gathered with a perfect print for kids. Smocking has been around for centuries as a way of making large sections of fabric smaller before the invention of elastic.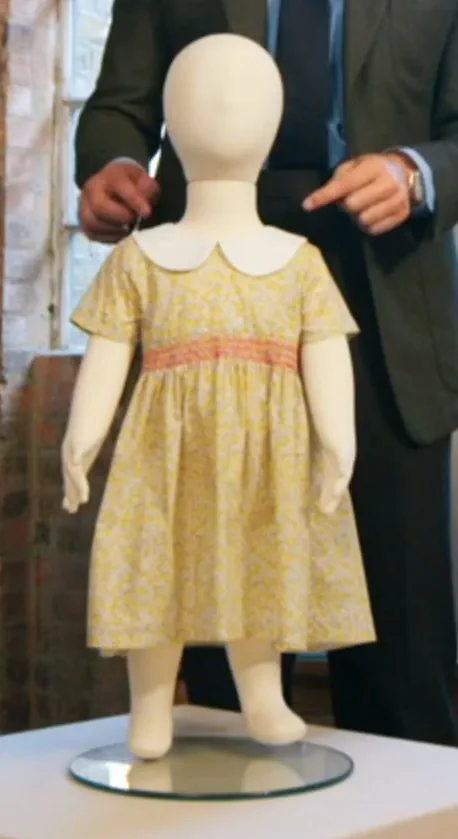 The smocked dress is made out of 12 pattern pieces. The first stage is to bind the keyhole opening at the back, adding a button loop. The front and back bodice pieces are then joined at the shoulder before the sleeves are inserted and the side seams sewn. After the Peter Pan collar is sewn to the neckline, the skirt is gathered with embroidered smocking before before being attached to the bodice. Finally a hem is added and a button sewn on to complete the dress.
Therese was last and Matt was first.
S6E3 Children's Week - Transformation of a sleeping bag into fancy dress
90 minute transformation challenge to turn a sleeping bag into fancy dress, specifically an item of food.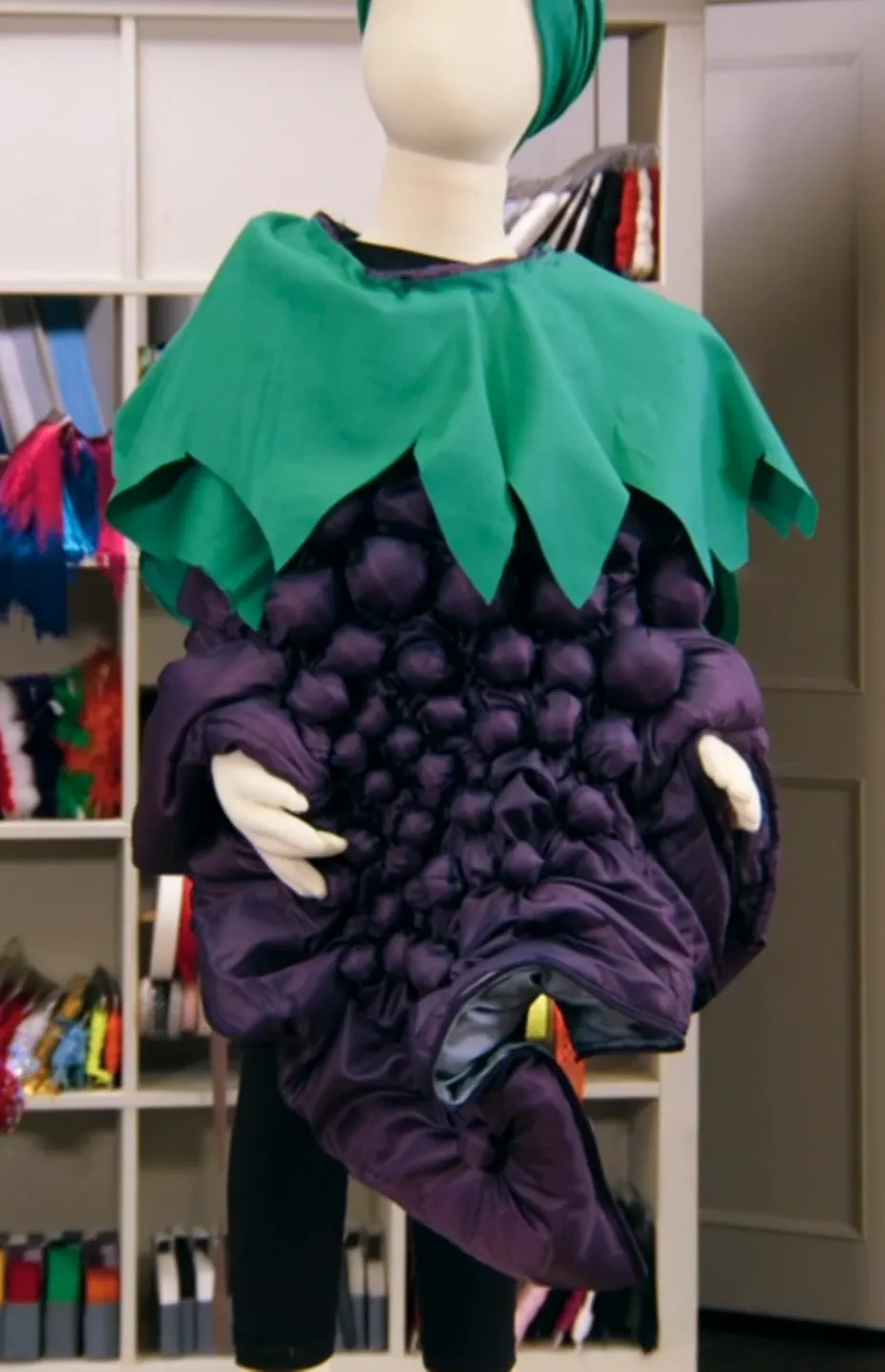 Therese was the winner with her bunch of grapes outfit which was awarded garment of the week.
S6E3 Children's Week - Dungarees
Made-to-measure challenge in 4 hours 30 to make a child's pair of dungarees. The fit is important - they should not be tight and should be made of a washable fabric.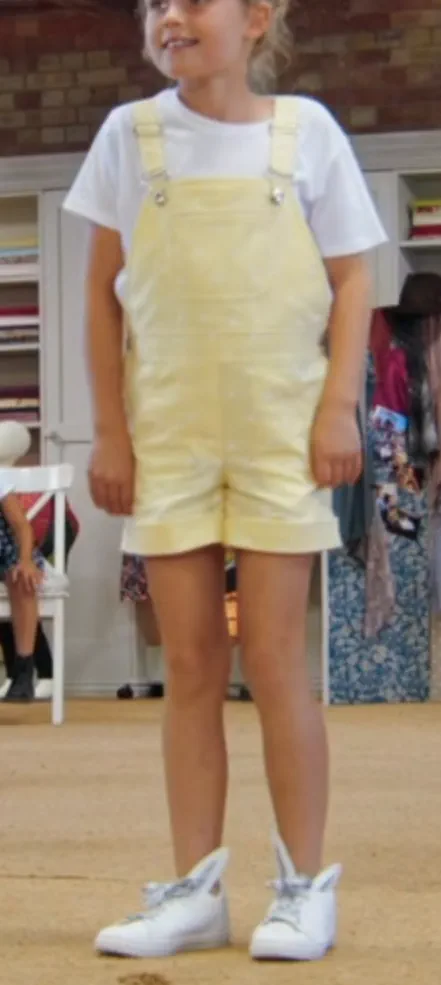 Fiona left the competition.
S6E4 Sportswear Week - Men's Rugby Shirt
A traditional cotton jersey rugby shirt, worn in the 1970s and 1980s, made in 4 hours 30. Won by Nicole.
S6E4 Sportswear Week - Transformation of 1 or 2 Cagoules into a child's waterproof onesie
The judges want the onesie to be comfortable, stylish, and safe. Won by Therese.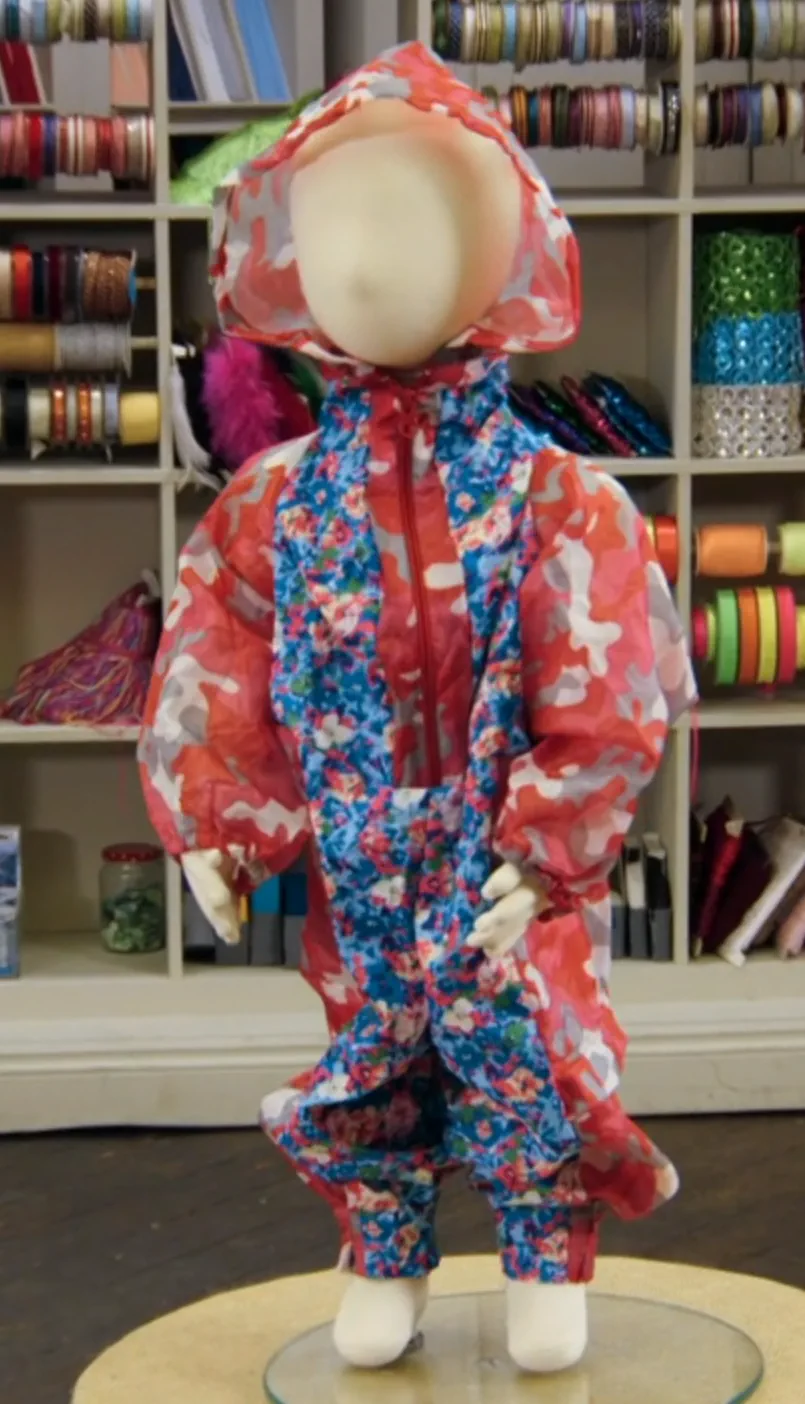 S6E4 Sportswear Week - Made-to-measure tennis outfit
Contestants are given four and a half hours to make a woman's tennis outfit, made-to-measure for their model. The brief leaves room for interpretation. Modern women tennis players have become powerful fashion icons and outfits range from all-in-one garments to pleated skirts and skorts, although Esme is looking for a traditional tennis dress in cotton with pleated skirt and matching knickers. Won by Ali (garment of the week). Hazel left the show.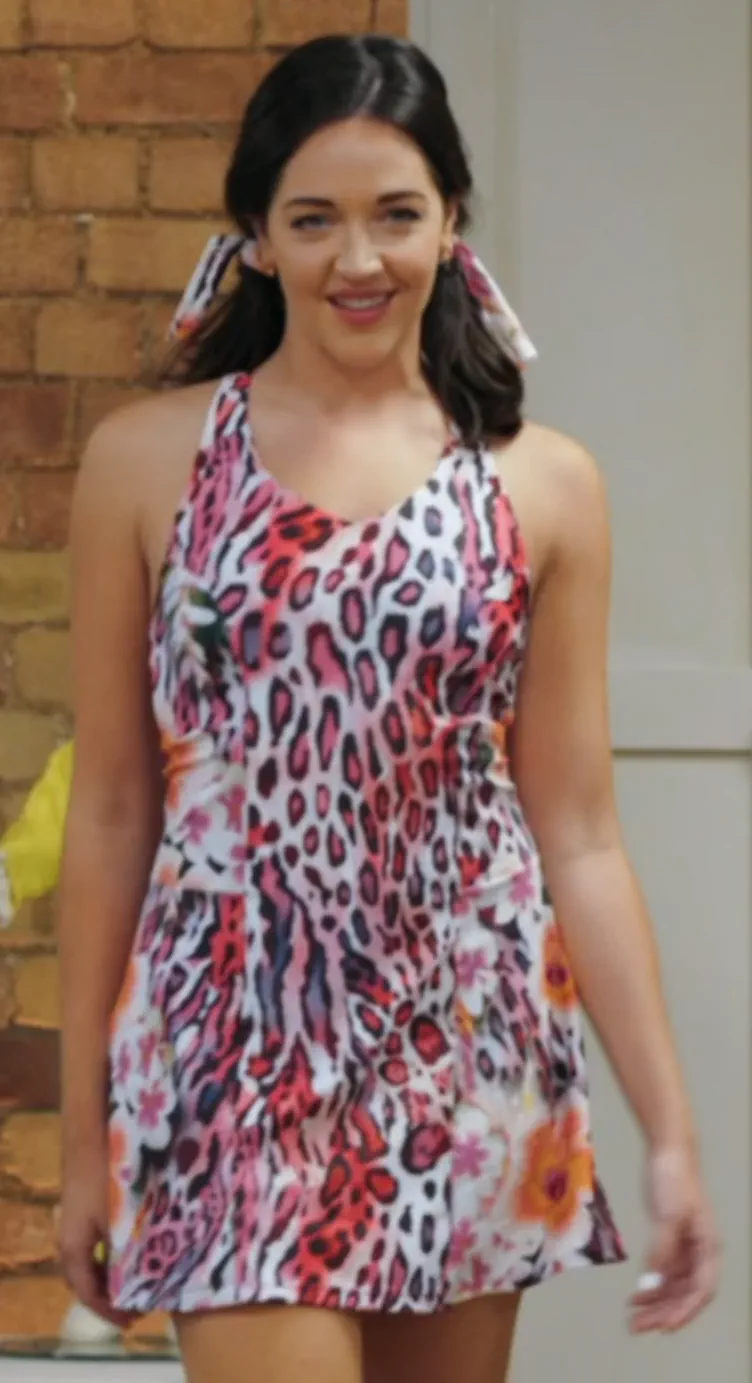 S6E5 Lingerie & Sleepwear Week - Boned Basque
In the pattern challenge, the contestants make a basque with six channels of boning fastened by hooks and eyes. Free choice of fabric, but it needs to be appropriate for a piece of luxury underwear. Unlike a corset, a basque can not be adjusted on the body, so as well as being sensuous against the skin, the fabric chosen must be firm enough to hold its shape and support the wearer. Satin, cotton jacquard. The basque is a good garment to test the contestants' ability to cut and sew precisely and organize themselves. Fit is absolutely crucial. With so many seams, even a little error on each will produce an overall poor fit. The patterns consists of 13 pieces, 3 for each cup which are constructed first, then 3 front panels joined together, then the cups sewn in place, before the remaining two panels are attached to both sides, boning casings applied to the inside seams and boning inserted, hook and eye tapes are attached and bias binding applied top and bottom for a premium finish. Won by Clare. Nicole was 2nd.
S6E5 Lingerie & Sleepwear Week - Nightwear into summer daywear
Transformation challenge to make a woman's summer daywear garment from an old nightie and a pair of pyjamas in 90 minutes. Won by Nicole with a pair of dungarees.
S6E5 Lingerie & Sleepwear Week - Two piece sleep set
Contestants have 5 hours to make a made-to-measure two-piece sleep set for their female models with a lace element.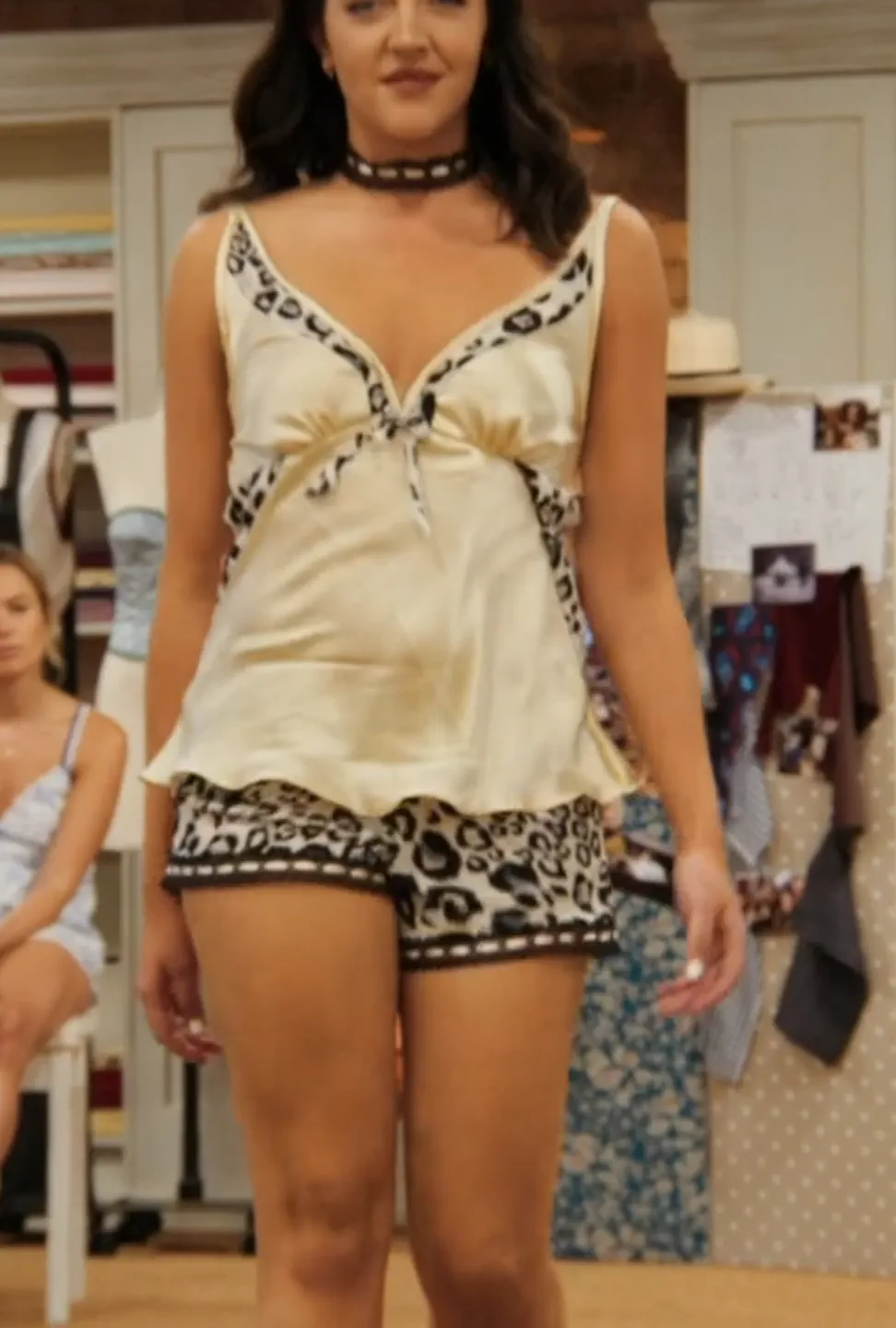 S6E6 Reduce, Reuse, Recycle Week - Bomber Jacket
Pattern challenge to make a man's bomber jacket with rib on the neck, cuffs and bottom, an open-ended zip on the front and patch pockets, to be made with fabric from up to four second-hand garments, plus new zip, rib & thread. Four and a half hours is allowed. The jacket is made from 14 pattern pieces cut from recycled garments. Pockets are sewn to the front panels along with zipper tabs, an open-ended zip is inserted, back panels joined to the front, before sleeves are attached and finished with elasticated cuffs. Finally the ribbed collar and a waistband are added to complete the bomber jacket. Won by Mark.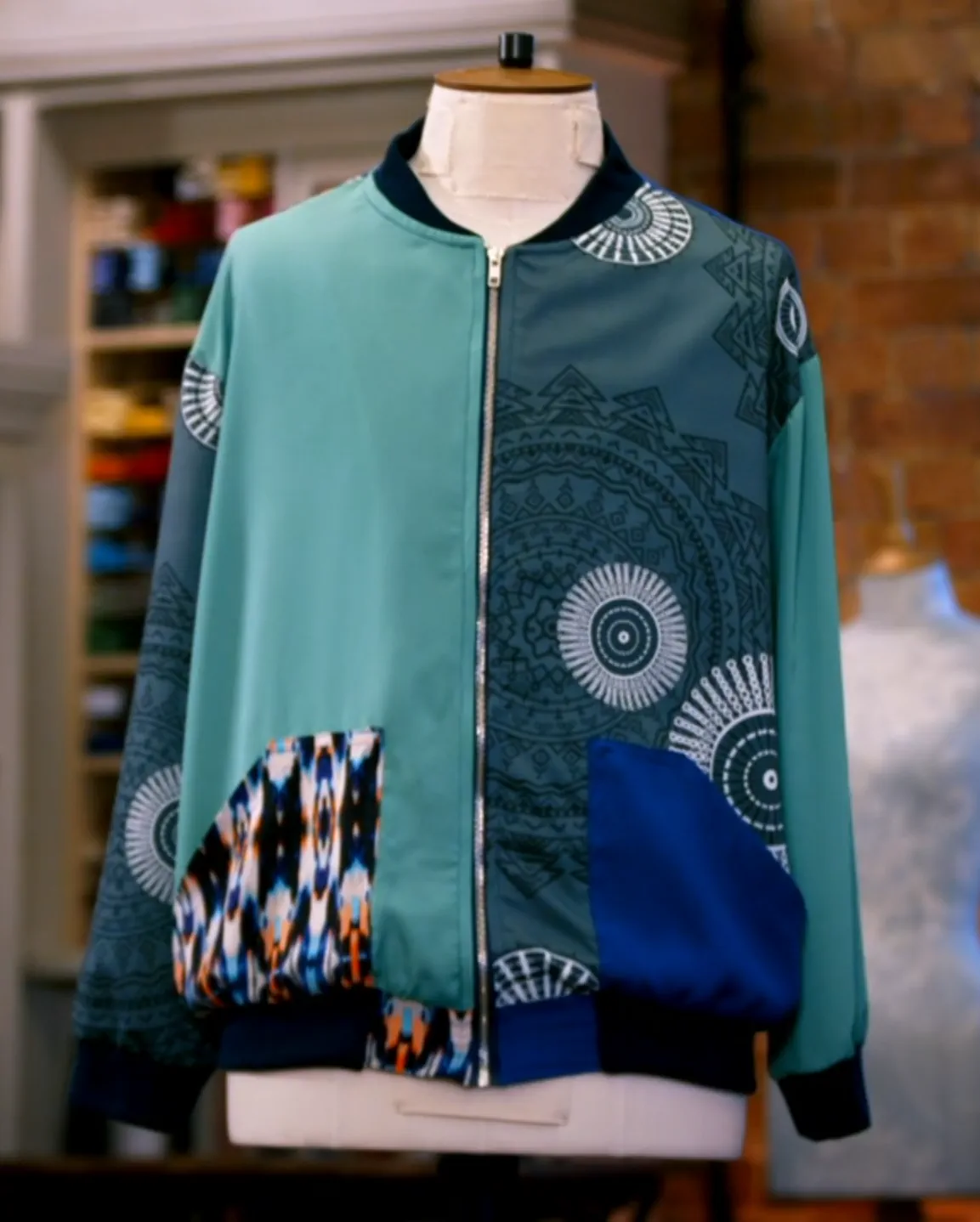 S6E6 Reduce, Reuse, Recycle Week - 
In the transformation challenge, the contestants have 90 minutes to make a garment with impact and drama and an exciting silhouette from three woven, recycled plastic laundry bags, whose patterns were used in the 2013 Celine fashion collection. Won by Peter.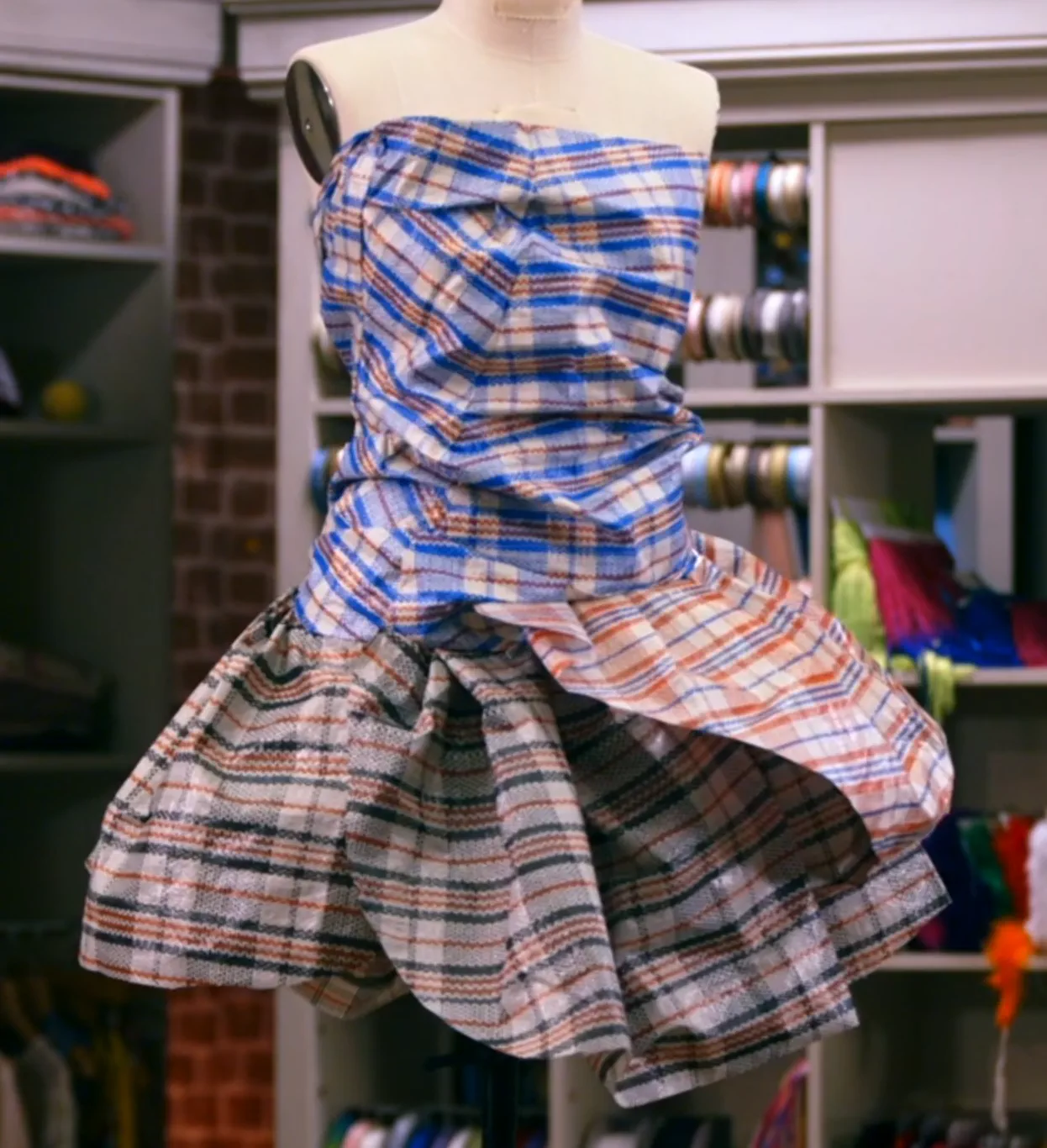 S6E6 Reduce, Reuse, Recycle Week - Winter Dress
Contestants must make a made-to-measure winter dress for a female model, from recycled knitwear. The rationale is that most of us have lots of old knitwear at home that needs to be given a second life. The judges are looking for something elegant, not something that looks like a pile of jumpers (sweaters) thrown on a mannequin. Won by Nicole and Matt (two! garments of the week).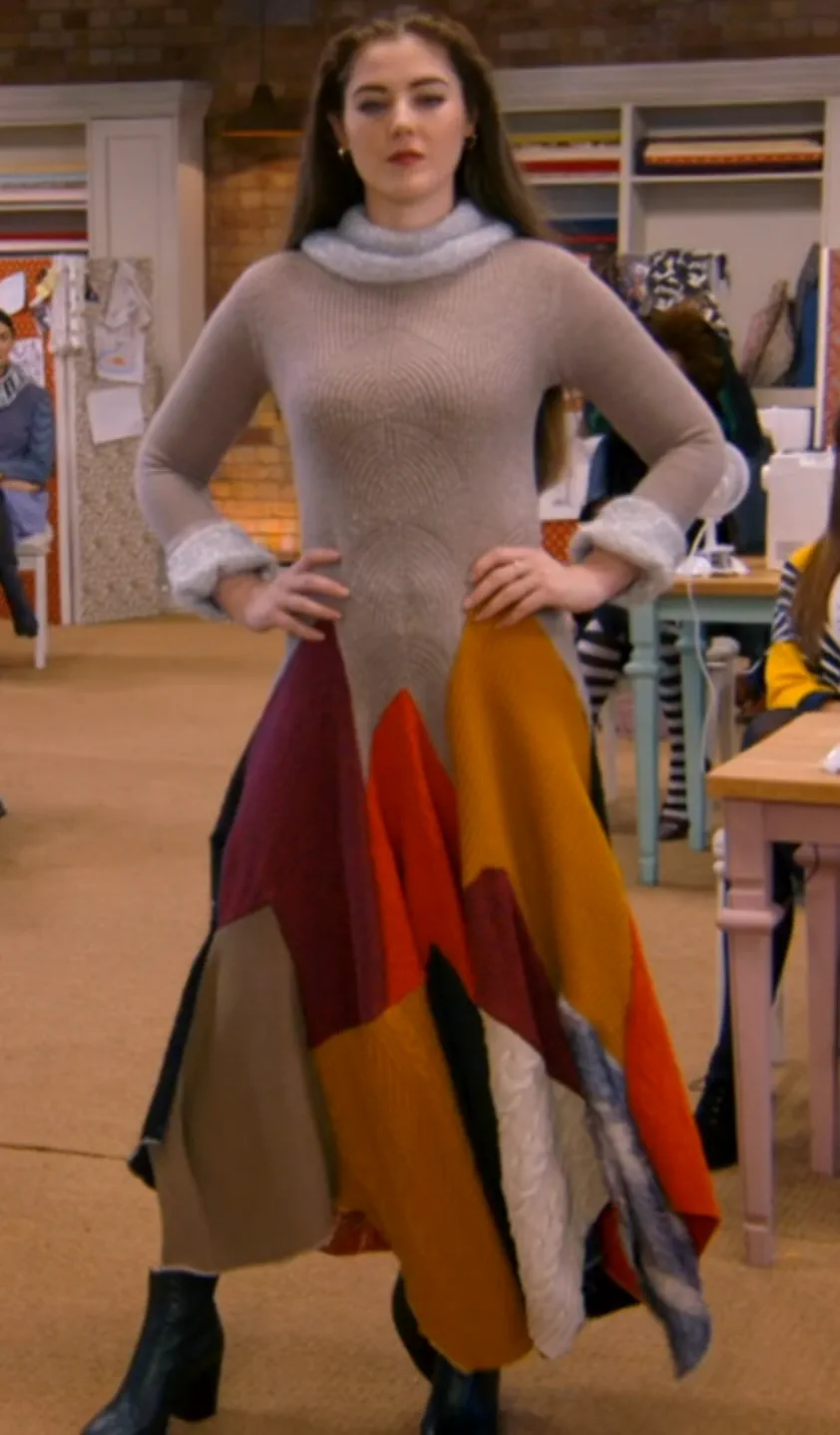 S6E7 1980s Week - Power Jacket
In the pattern challenge contestants have 4 hours to make a woman's "power jacket" , exuding authority and femininity in an era when women first shouldered their way to the top, with big lapels and very dramatic shoulders. Think Margaret Thatcher, Princess Diana, Joan Collins. The silhouette is a triangle, with a tiny weenie waist and great big shoulders. The prominent lapels need to be perfectly handled. A fabric that can hold a shape and be pressed is essential. The jacket is made from 14 pattern pieces. The front panels are shaped with darts and joined to the back with side panels. Then the sleeves are inserted followed by the facings which sit inside the jacket and are turned out to become the lapels. Finally the shoulder pads, a buttonhole and button are added to complete a jacket fit for boardroom battles. Won by Matt, with Clare second.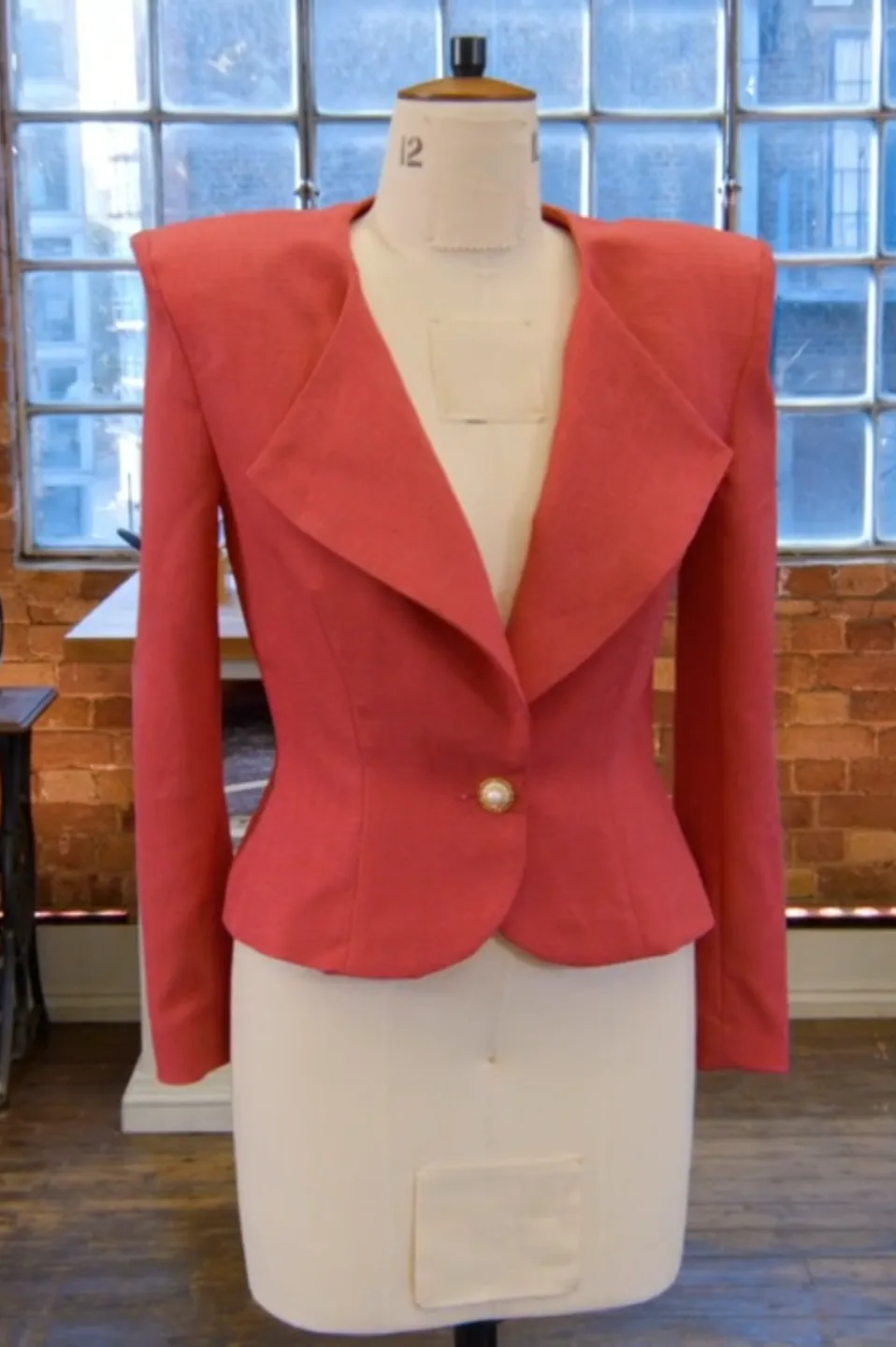 S6E7 1980s Week - Party Outfit
In the transformation challenge, the contestants have 90 minutes to use three items of hi-vis clothing (safety wear) to create a 1980s party outfit. The 1980s saw MTV usher in a new generation of fluorescent party-goers. Won by Clare.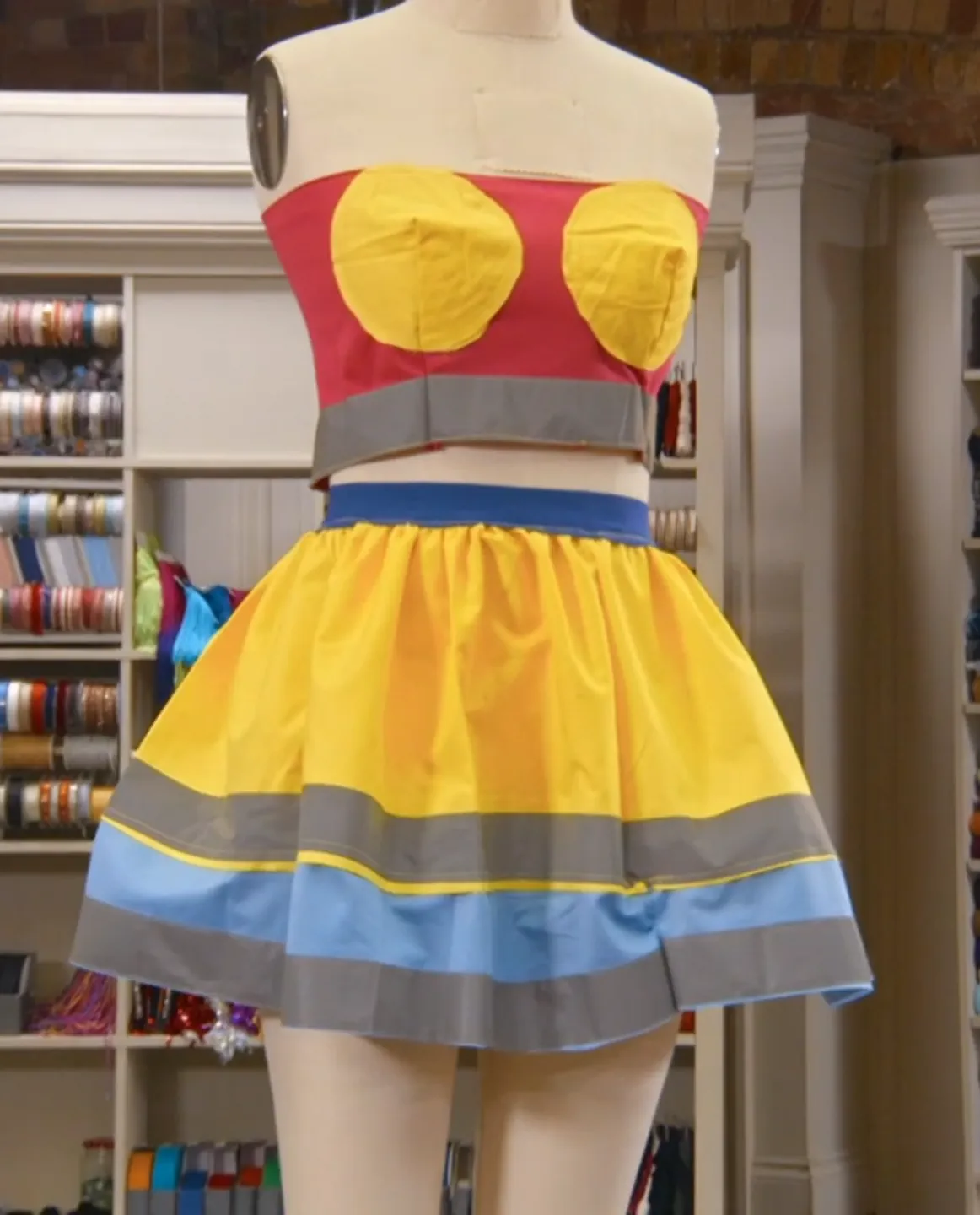 S6E7 1980s Week - 1980s Cocktail Dress
The contestants need to make a made-to-measure 1980s cocktail dress for their models in 5 hours 30. By the late 1980s fashion became another way for yuppies to flash the cash. It was a period of excess and cocktail dresses of that period reflect that with exaggerated features, big sleeves and bows, shiny fabrics, fitted tight on the waist, big shoulders, peplums. Nicole won (garment of the week). Therese left the show.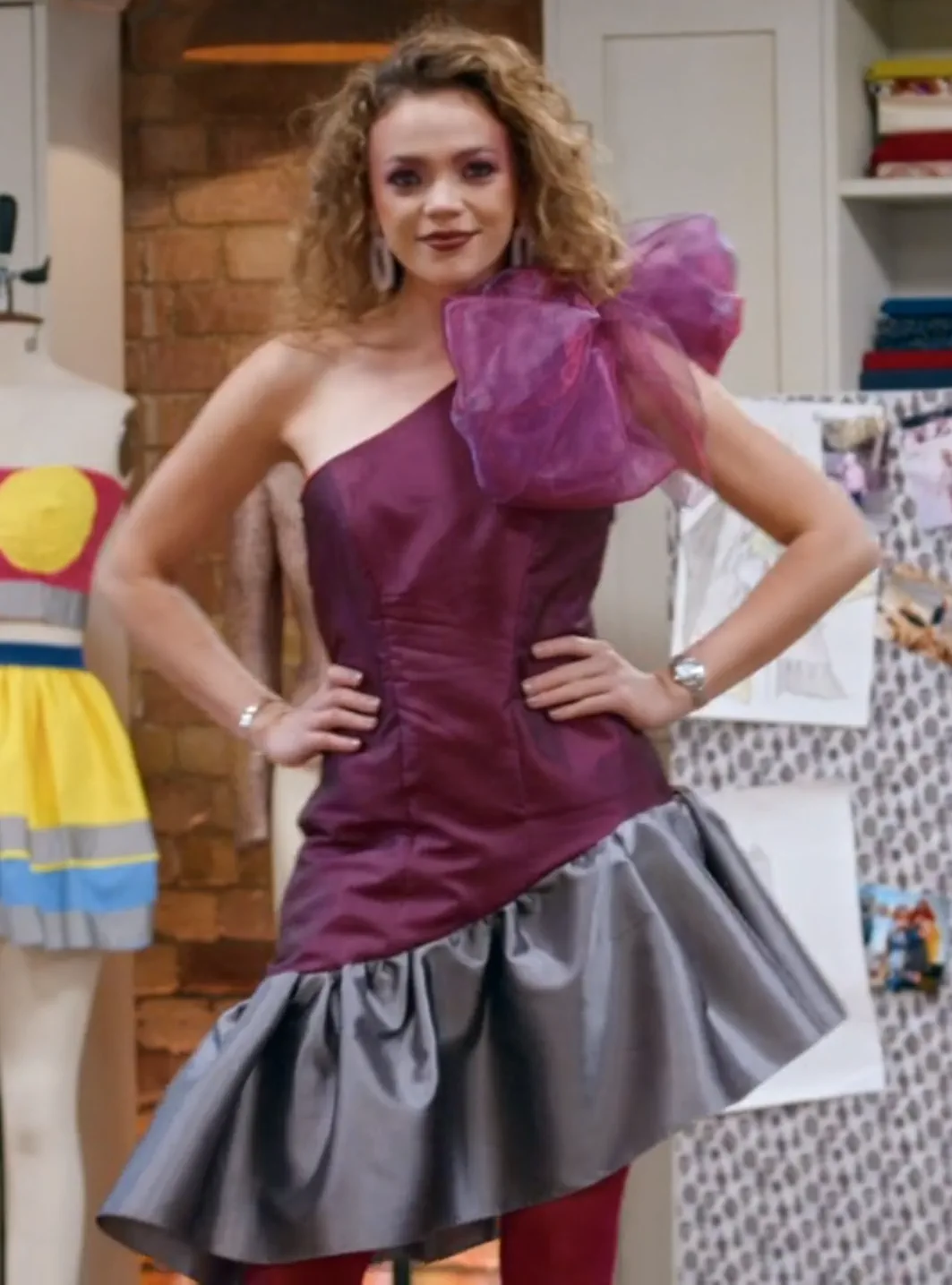 S6E8 International Week - Terno Blouse
In the pattern challenge the contestants have 3 hours 30 to make a Terno Blouse with butterfly sleeves from Philippines, as popularised from 1965 by Imelda Marcos. The blouse is made from eight pieces of fabric. The shoulder and side seams are sewn together, then a strip of bias binding is created and attached to the neckline. Next, the body is hemmed, the sleeve heads are gathered and sewn into the armholes and tulle netting stitched inside the sleeve. Five buttonholes and covered buttons are created and sewn in place. Won by Clare who also sewed French seams.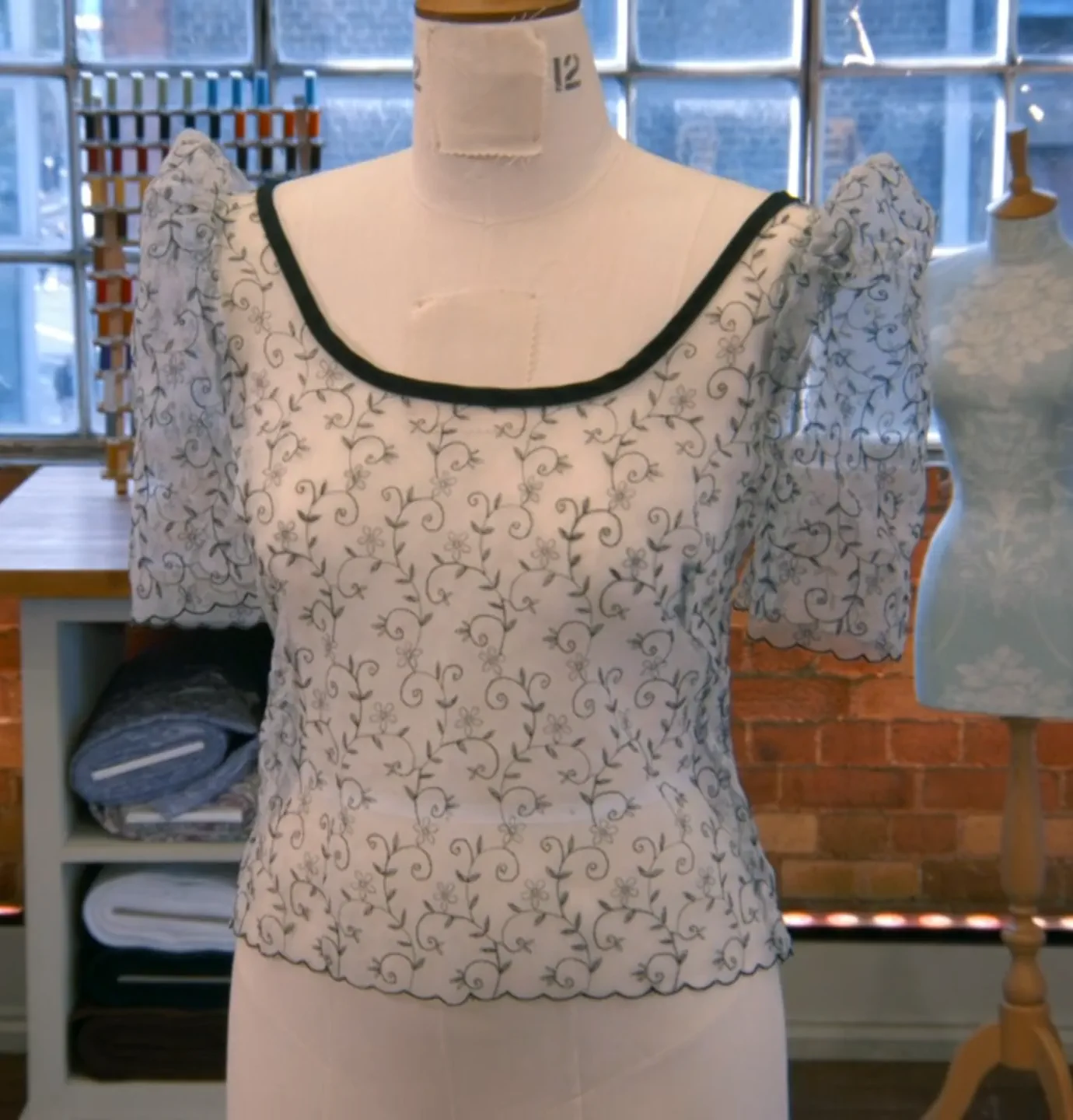 S6E8 International Week - Transformation of a Provençal tablecloth
The contestants are asked to transform a Provençal tablecloth into any garment in 90 minutes. These traditional tablecloths found in Provence feature olives, wheat and cicadas, but are originally from India and known as Indienne. Won by Clare.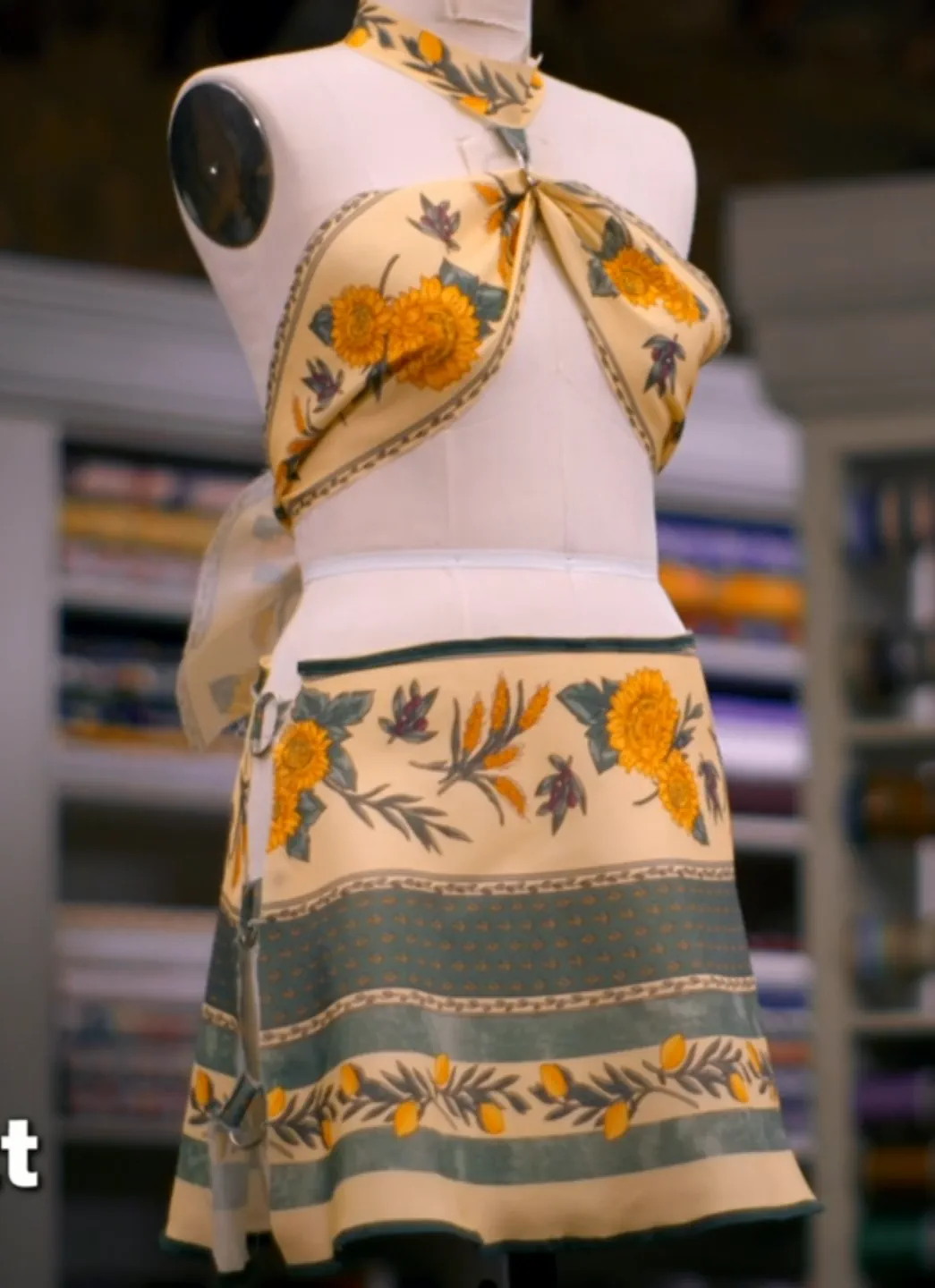 S6E8 International Week - Flamenco-inspired skirt
The contestants have 5 hours 30 to make a Flamenco-inspired skirt, made-to-measure for their models. These skirts were first won as multi-coloured dresses in the late 19th Century in Seville and became the regional dress of Andalusia. Now often worn as just a skirt, they hug tightly over the waist and hips with multiple ruffles at the floor-length hem. Garment of the week by Nicole. Mark left the competition.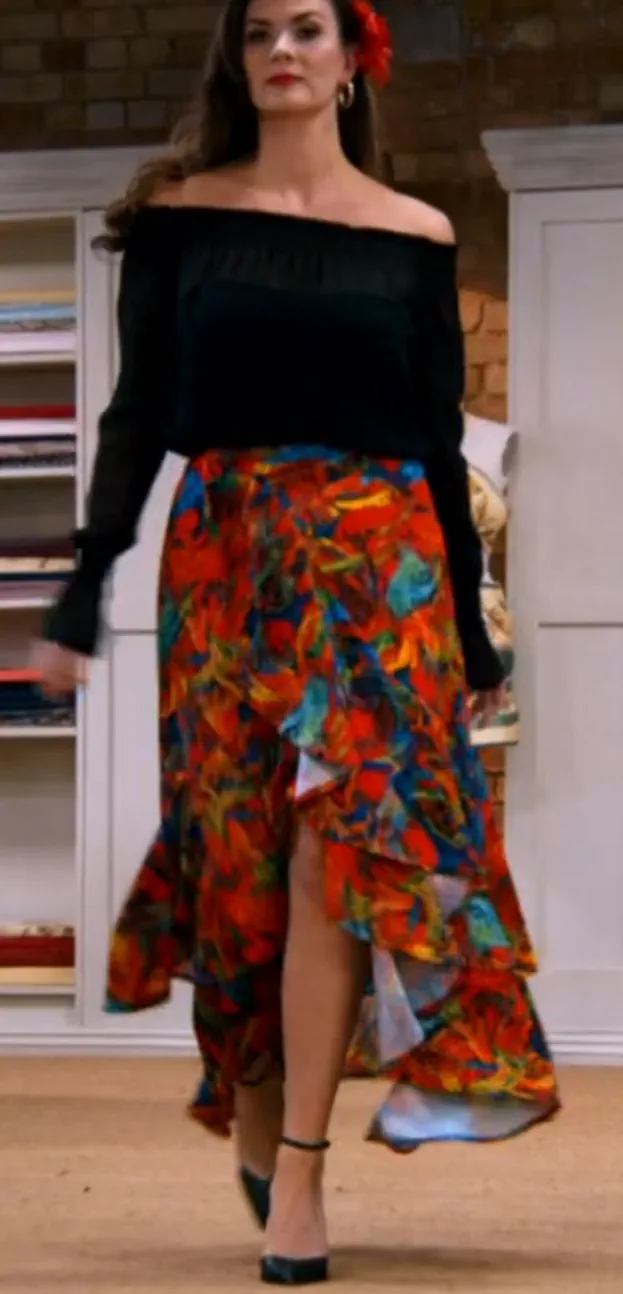 S6E9 Movie Week - Marilyn Monroe dress from Seven Year Itch
Contestants have 4 hours 30 to recreate the pleated skirt, halter neck dress worn by Marilyn Monroe in the 1955 movie Seven Year Itch, designed by William Travilla and made from rayon-acetate crepe. The original dress was sold for $4.6m in 2011. They are given pre-pleated polyester fabric as well as flat fabric to interface, cut and sew. The dress is formed of three main sections, the skirt, waistband and bodice. First, eight intricate sunburst pleats are added to each of the two bust pieces and a lining is attached, before both are bagged out and joined together at the centre front. The waistband is added, sandwiching the bodice between the fabric and lining. The skirt is then attached and an invisible zip inserted into the back opening. A hook and bar is added to fasten the neck and finally the skirt is hemmed to finish. Won by Matt.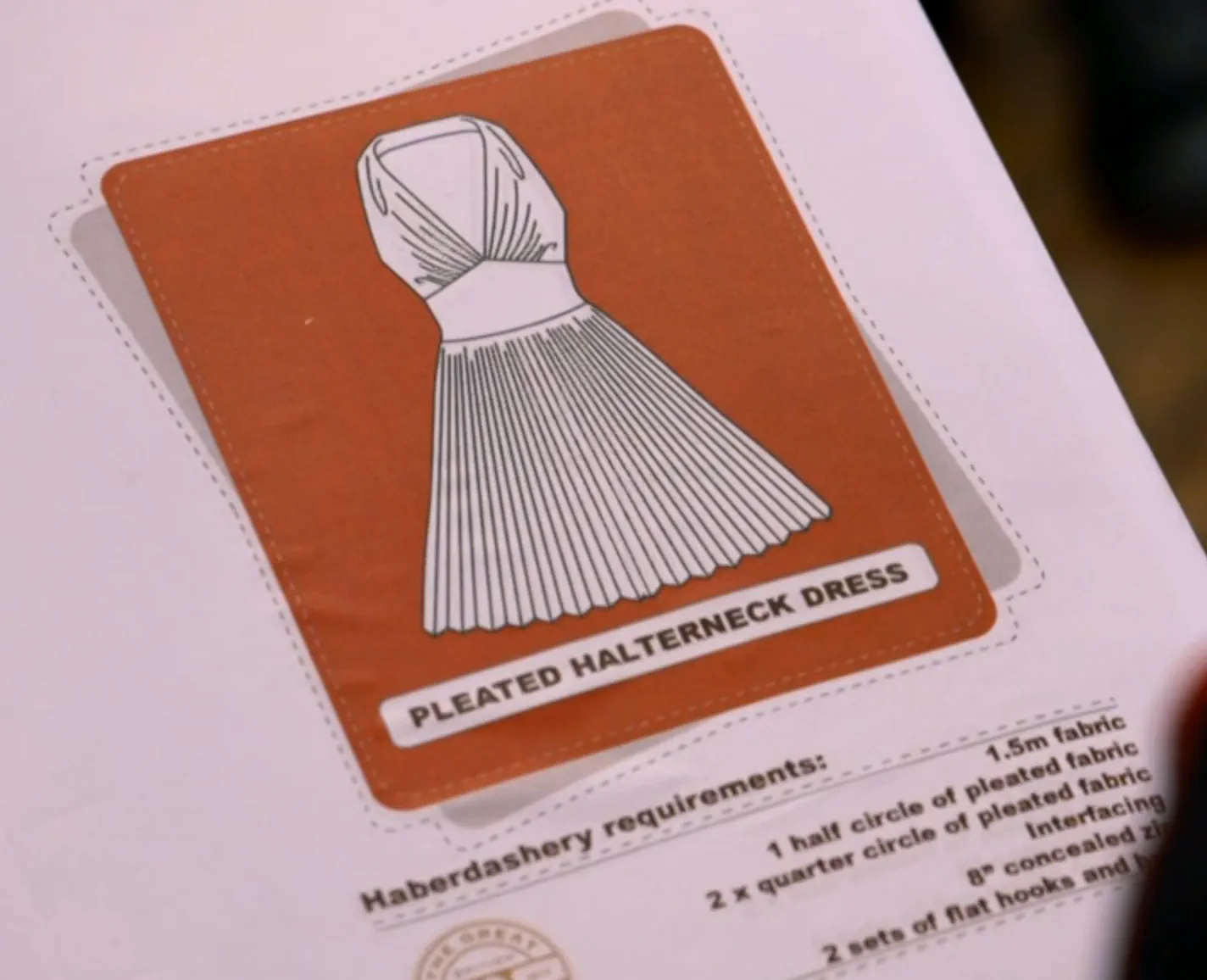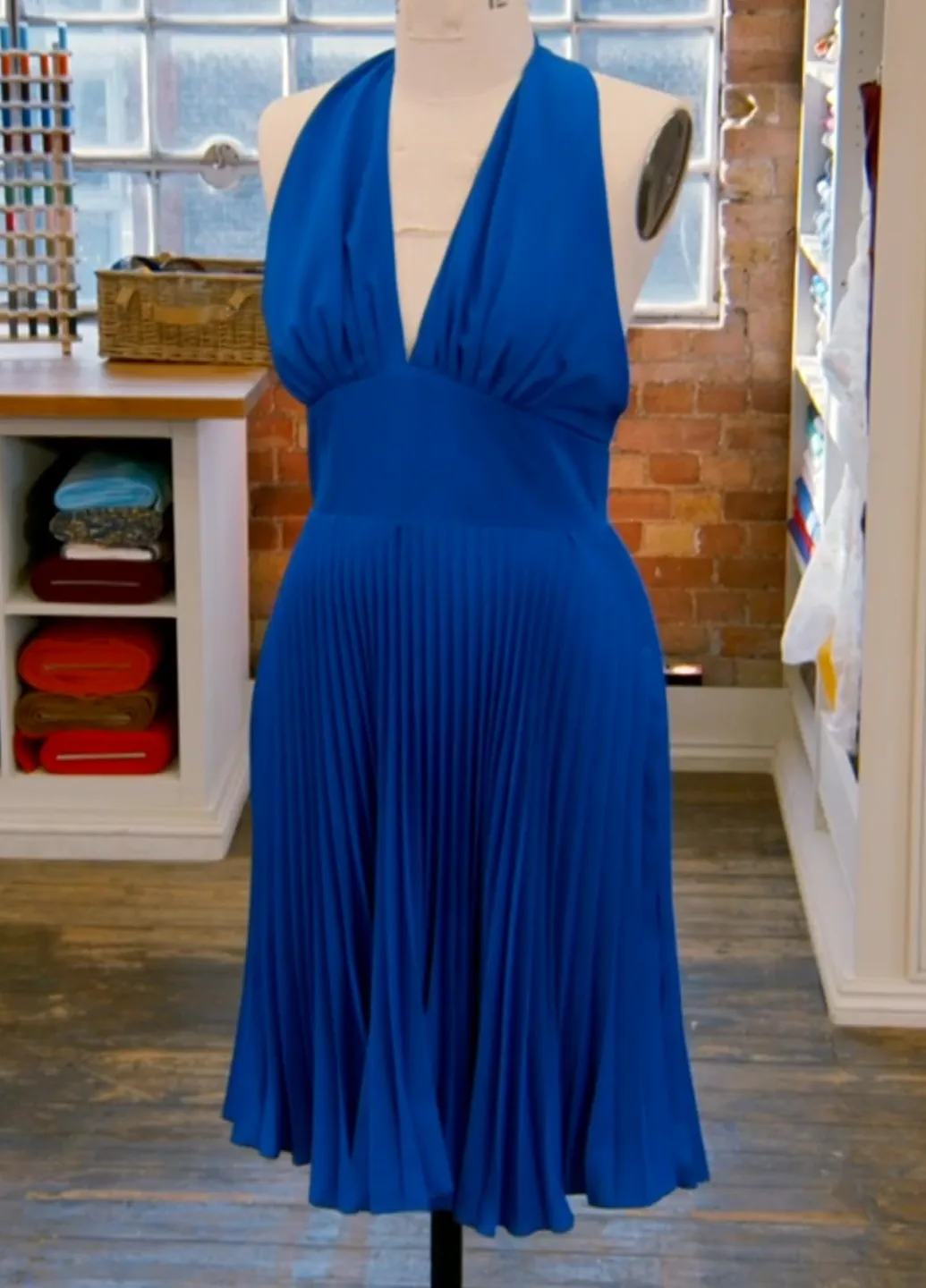 S6E9 Movie Week - Sci-fi inspired transformation
Contestants are given a variety of electronic and other junk, plus garments, from which they must make a sci-fi inspired garment in 90 minutes. Won by Clare.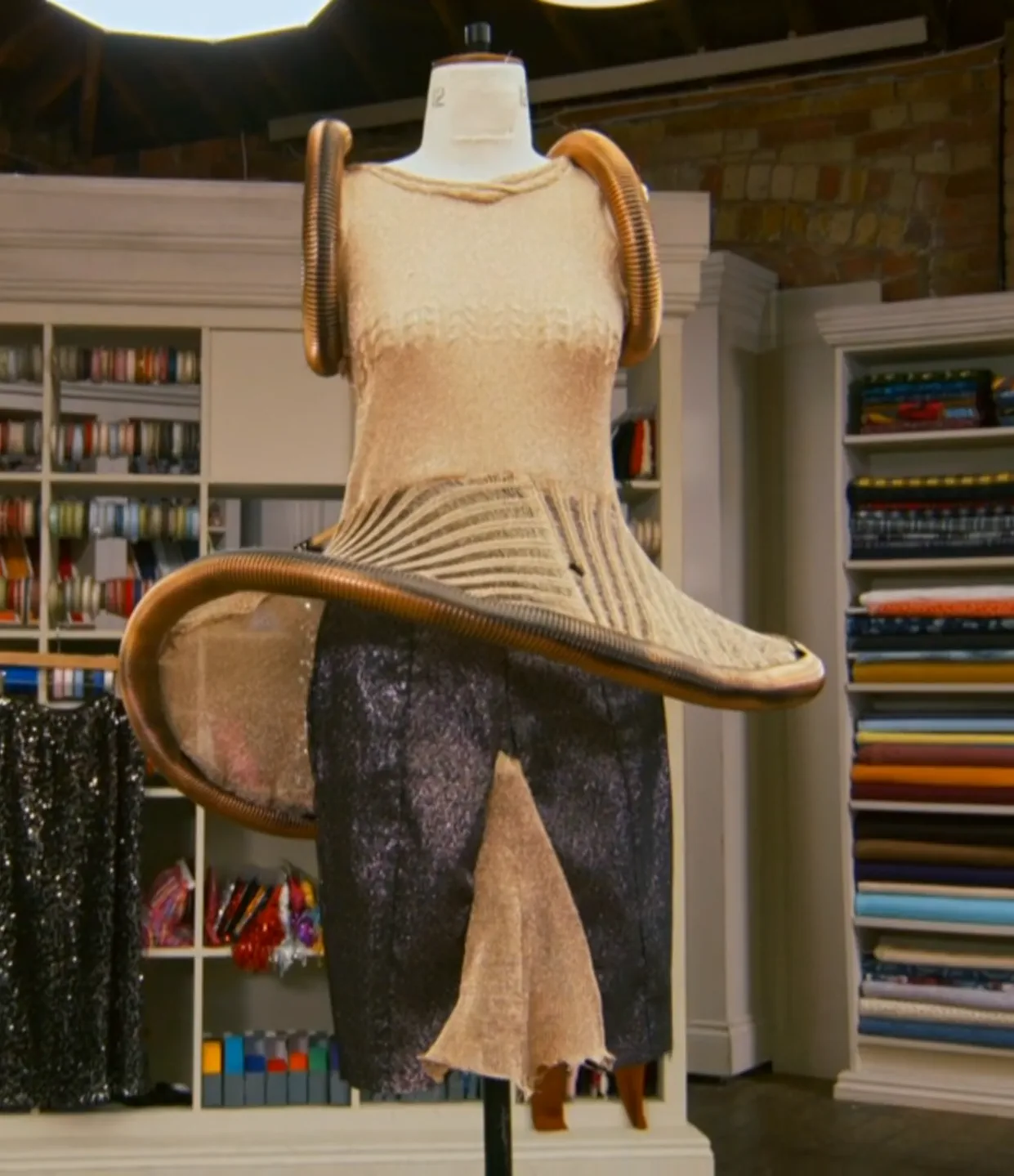 S6E9 Movie Week - Flapper Dress
The contestants make a flapper dress, made-to-measure for their models in 5 hours 30. Flapper dresses, from movies such as Great Gatsby and Chicago, have won three Oscars. Flapper dresses must sit easily on the body and move away from highlighting the female form, almost disguising it, hanging straight. Good fabric choice for a flapper dress is beaded or with sequins, plus fringing, and a petticoat underneath. Since you can't sew through a bead or sequin, and having them in a seam would make it lumpy, you must remove the embellishments at the seam before sewing. Traditionally the flapper dress is a simple slip sitting under a glittering sheer dress.
Clare's transformation won garment of the week. Liz left the competition.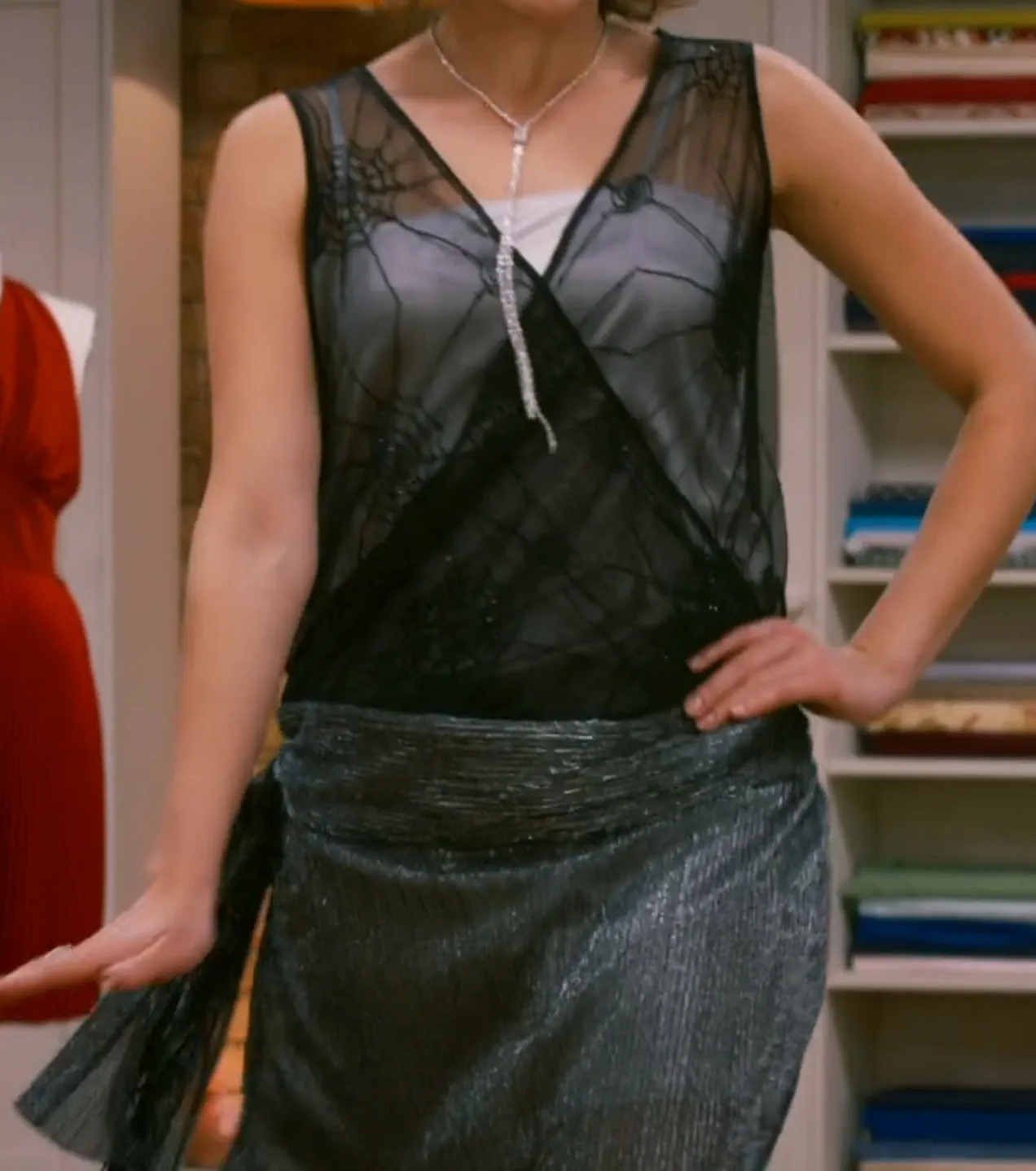 S6E10 Final - Boy's kilt
In the 3 hour 45 pattern challenge the three remaining contestants make a boy's tartan kilt with a leather strap and buckle with quality of pleating and accuracy of repeats of the sets being critical. The kilt requires an incredible level of precision - a tartan (and there are over 3000 Scottish family tartans) is a regular repeating pattern of squares that must be repeated through the pleated section at the back of the kilt. The kilt begins as a rectangle around 1.5m long, to reduce this, even pleats are formed, taking care to maintain the tartan's repeating pattern. Each pleat is then adjusted at the waist to fit. Next a waistband is pattern-matched at the front and attached. A pair of leather buckles are added, the side edges frayed, and a kilt-pin is added to complete the look. Won by Clare.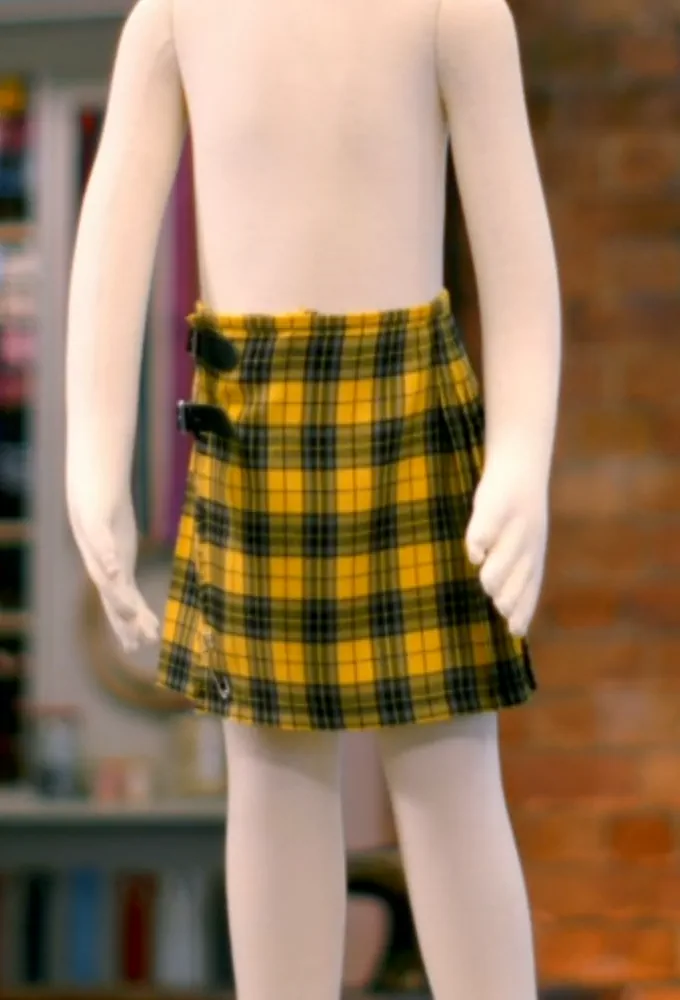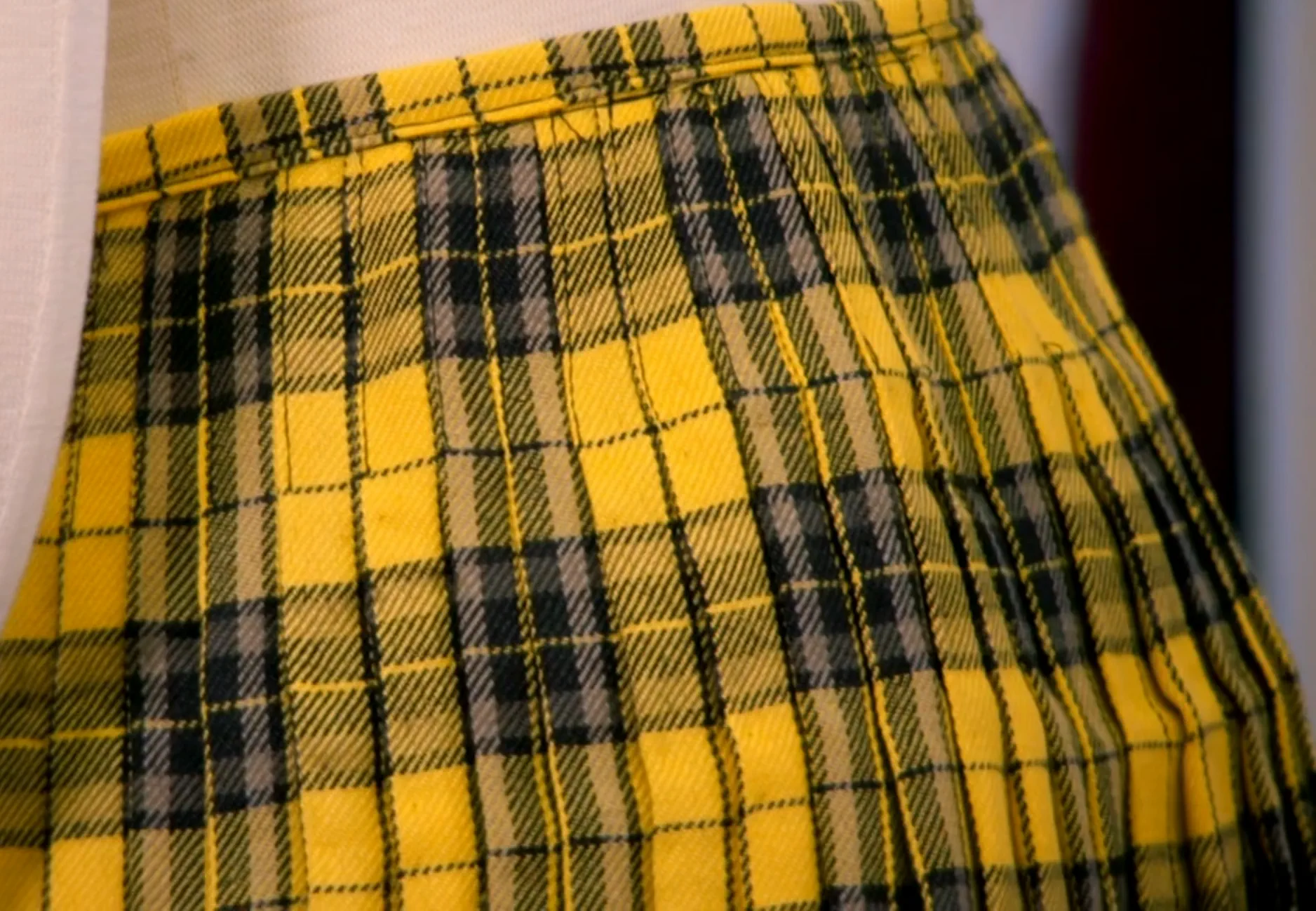 S6E10 Final - Carnival outfit
The contestants must transform a swimsuit and a prom dress into a carnival outfit in 90 minutes. A carnival outfit is exuberant, and has a big structural wow factor, and a lot of embellishment. Think bustles with feathers on, headpieces with plumage. Won by Nicole.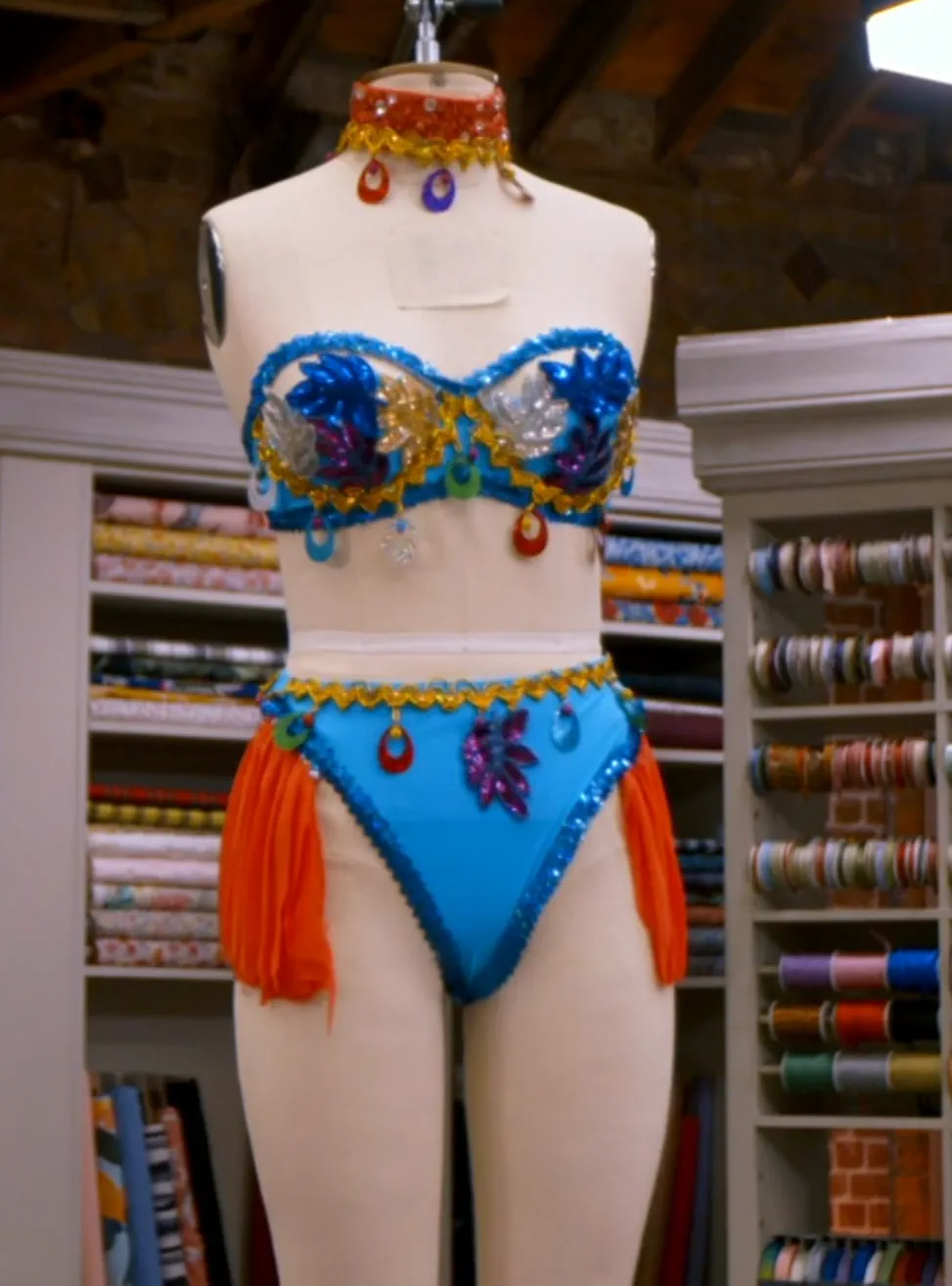 S6E10 Final - Evening Gown
The final challenge is to create a stunning evening gown with a cut-out element for drama, made-to-measure for their own chosen model, in 6 hours. They were allowed to cut out their pieces beforehand.
The The Great British Sewing Bee Season Six winner was Clare.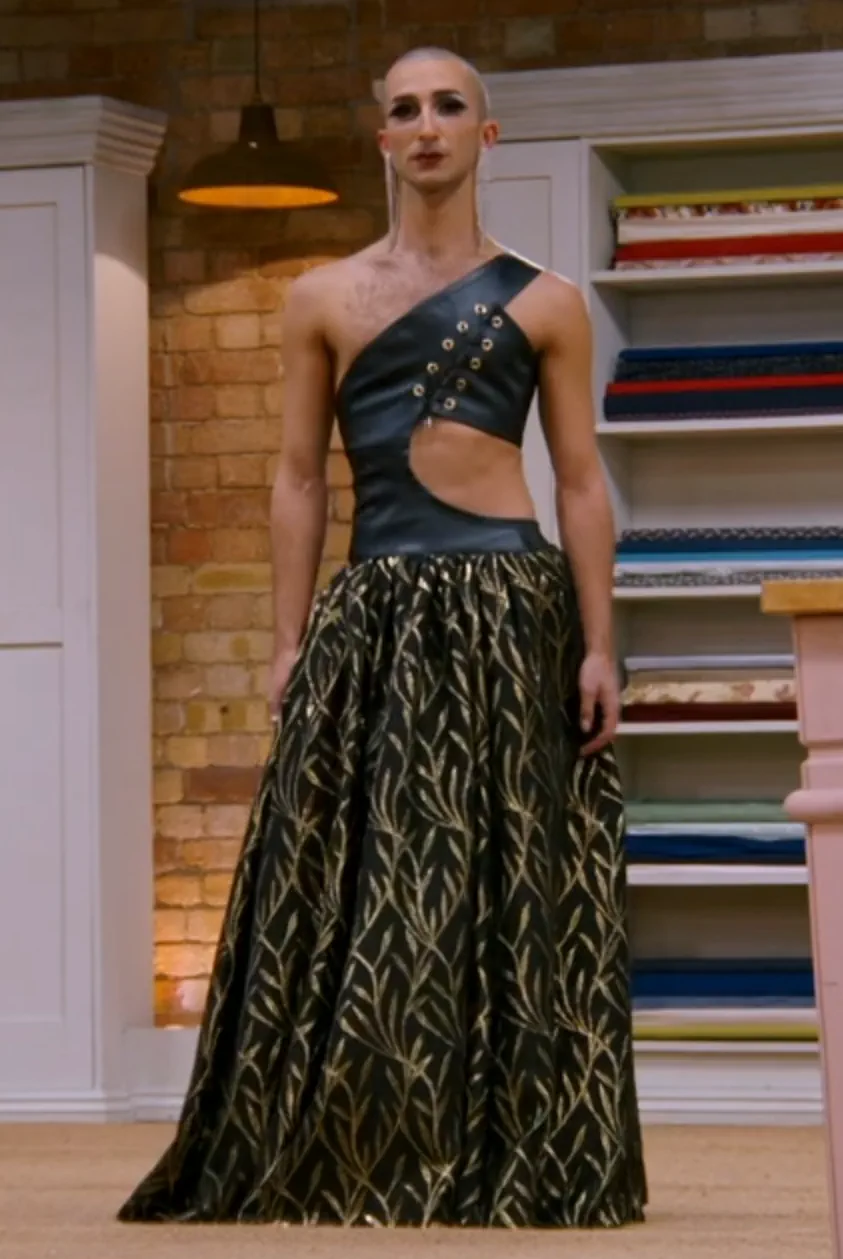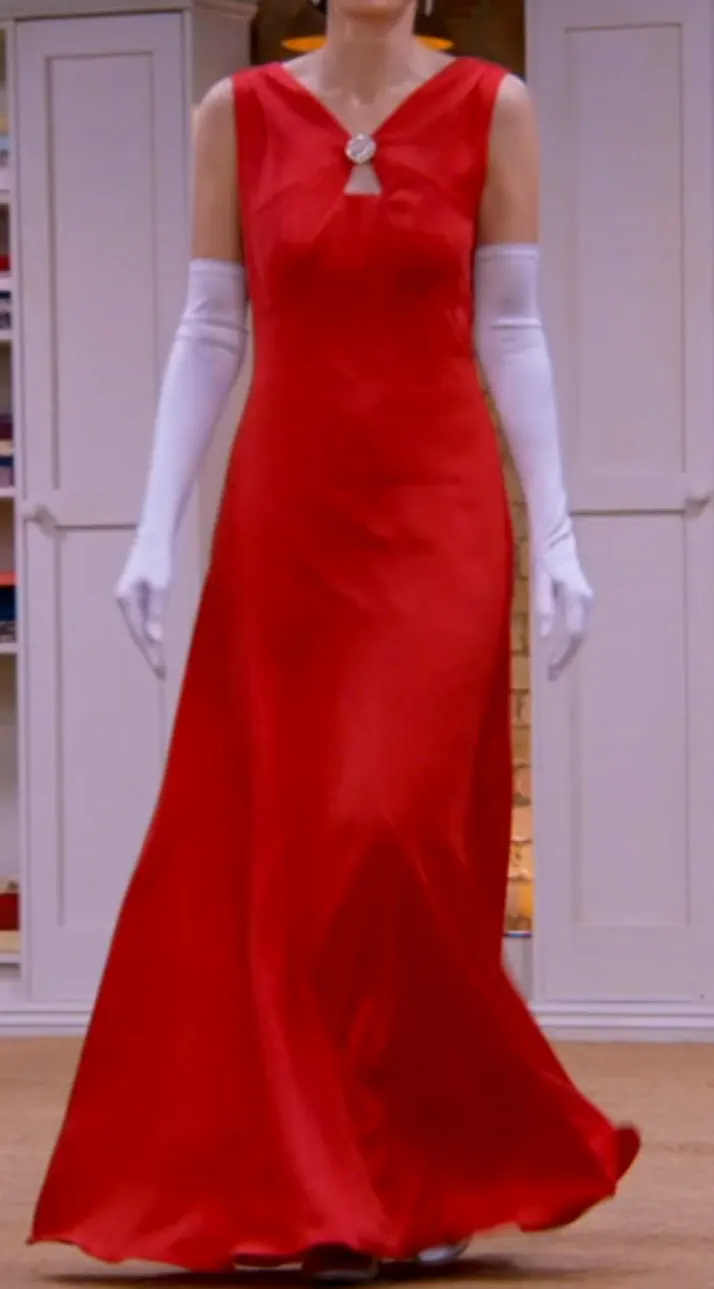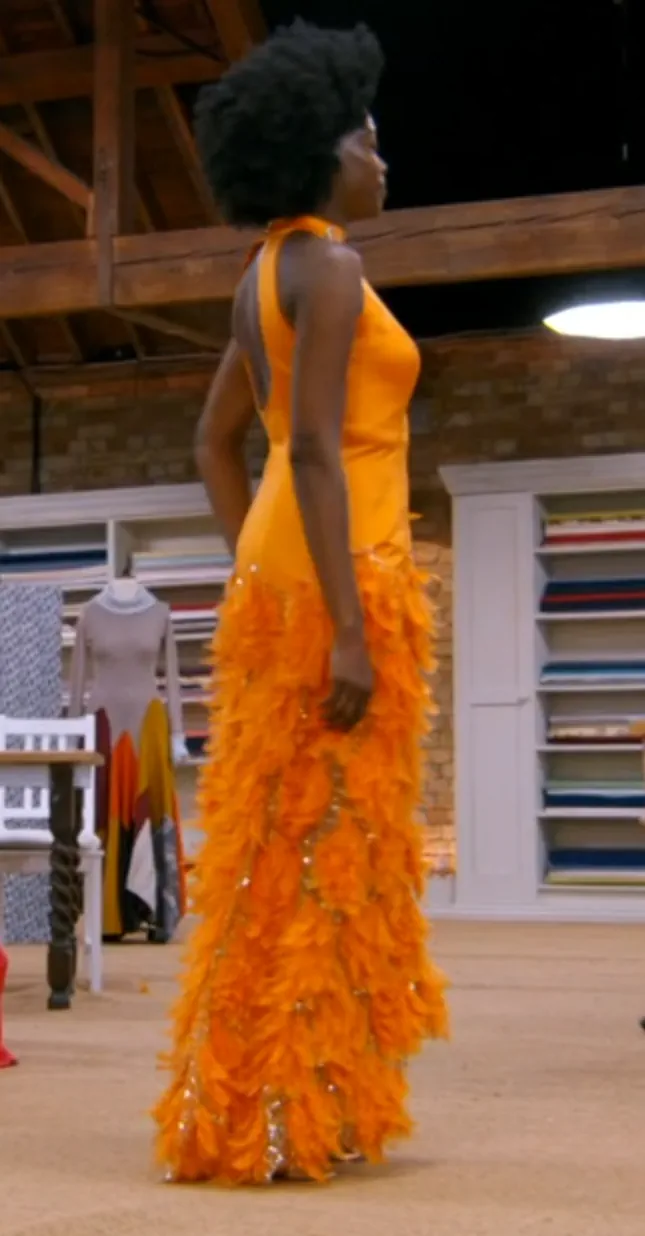 Production Details
The contestants' designs were illustrated for the show by Suzie Kemner aka Suzie London.
Contestants
The contestants in The Great British Sewing Bee Season Six were:
Alex - Alex is a student of Artificial Intelligence at Edinburgh University and is a ballroom dancer with success in competitions across Europe. He started sewing to make affordable dance costumes. 
Ali - Ali is a Bradford-based paramedic who plays golf, especially on holiday where she wears outfits that are "a little bit sexy". 
Angillia - Angillia is a retired teacher and reiki healer who lives in Watford. She is of Caribbean descent and loves the sound of water.
Clare - Clare is a consultant lung specialist at Queen Alexandra Hospital, Portsmouth. She is the rider of an antique bicycle with a passion for 1940's "secretary style" who lives in Winchester. She attends vintage events and drinks gin by choice and spent a month in Peru in 2019.
Fiona - Fiona lives near Glasgow who has a passion for sewing and for exercise, who makes her own swimsuits and leggings. She has a yacht with partner Henry.
Hazel - Hazel a charity worker who lives in London with husband Ashley and son Asha. She rediscovered a love for sewing after becoming a mother. She loves animal print and African wax print fabrics, especially leopard and cheetah
Liz - Liz lives in Middlesbrough, and is an enthusiastic rider of motorcycles who sews bespoke outfits to suit her unique taste. She describes her style as "punky", "alt-y", "noughties" and "skater". She is mother to young children Hannah and Sophie.
Mark - Mark is a high street banker who lives in Kenilworth who plays piano in a local wine bar and is carer of dogs with husband Clive and is a Doctor Who fan. 
Matt - Matt is a broadcast engineer who lives in London with partner Greg a drag artist called Miss Martini, for whom Matt designs and creates costumes. He started sewing aged 40 and is used to making clothes to fit his drag queen friends. 
Nicole - Nicole, living in London, was born and grew up, and learned to sew, in Trinidad, but came to the UK in her twenties and was a marketing manager but is now a jewellery maker and mother of three. 
Peter - Peter is a youth hostel manager living in Brighton and is a self-declared fashion rebel, embracing everything from boho streets to catwalk, and owns a "sewing fez". He is a particular fan of Vivienne Westwood. 
Therese - Therese is a home tutor and grandmother living in East Sussex who particularly likes floral print fabric. She moved to Abu Dhabi in the 1980s. She is the most experienced of the contestants at sewing children's clothing.