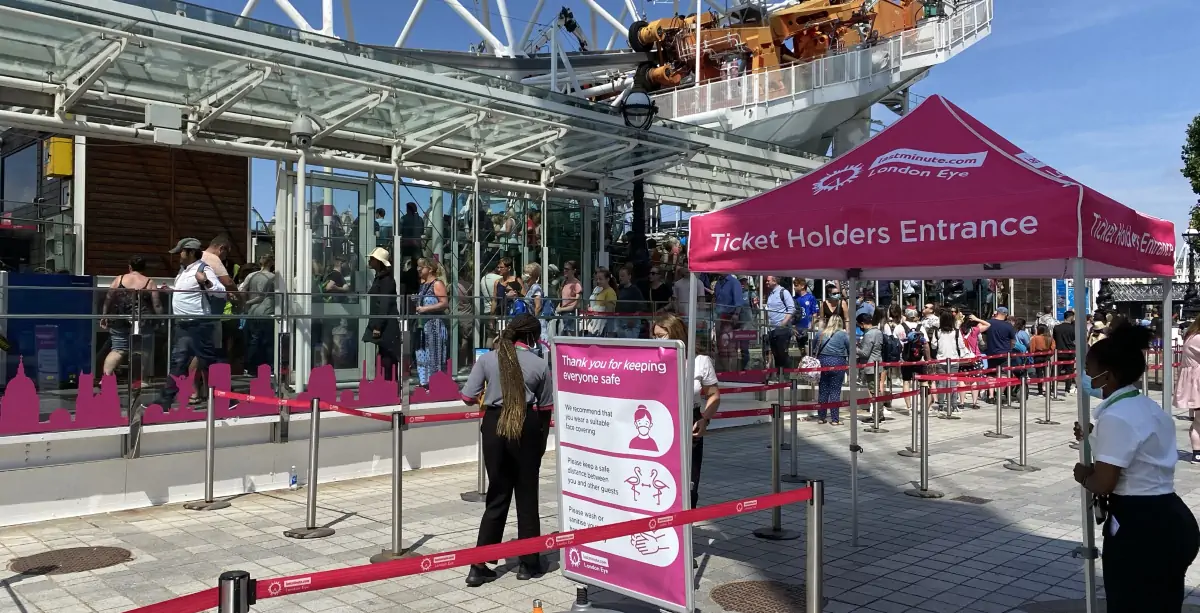 Bypass the London Eye queue - how to eliminate the waiting time
The London Eye observation wheel attracts 3 million visitors per year and the queues can be eye-wateringly long, with poor wait times being the #1 reason for negative reviews on TripAdvisor and other review sites. Fortunately there is a way to have a fantastic trip without the hassle of waiting in line.
I took the following photo of the queue for Standard Tickets on 23rd July 2021 at 12:02pm. There is a 22 minute wait (much shorter than normal).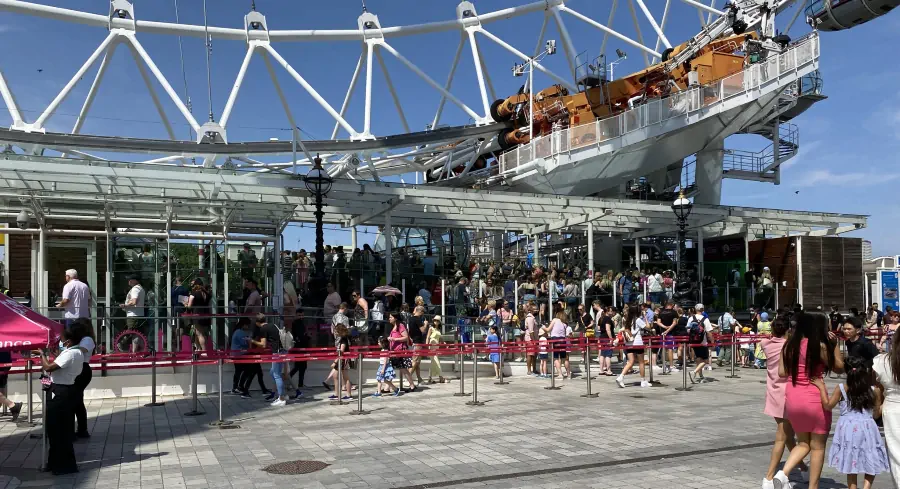 London Eye queue times are from 30 minutes to 2 hours for Standard ticket holders and up to 30 minutes for Fast Track ticket holders. Queue times are longer between 11am and 5pm, on bright, sunny days and during the peak tourist summer season. Booking a London Eye Experience (see below) is the best way to reduce queue times to the absolute minimum.
Landmarks you can see from the London Eye
Once onboard the London Eye, you get great views of many famous London landmarks such as Buckingham Palace, the Houses of Parliament and Big Ben, Westminster Abbey and the City of London, and of course the river Thames since the Eye is located on the river's South Bank.
London Eye Standard and Fast Track tickets explained
You can buy a Standard ticket, or a Fast Track ticket costing about £10 more per person. These both give you exactly the same experience once onboard, except that Fast Track ticket holders pay more and wait in a separate, shorter line. But you still have to queue with a Fast Track ticket and don't let anyone tell you otherwise. If you are using one of these ticket types, please note that tickets are more expensive if bought on the same day, so try to buy the night before to get a substantial discount (approx. 21% cheaper). Please also note that when booking in advance you will be asked to specify your preferred time of arrival. If you arrive at this time, this does not mean you will automatically get on at that time. The timing of tickets is approximate and just helps the attraction to spread the load through the day. Even if you miss your timeslot, or arrive earlier, you will still almost always be allowed on regardless.
However, I do not recommend either of the above ticket types as for both Standard and Fast Track tickets you still have to queue and these queues can get pretty long.
In the following video from 12:02pm on 23rd July, 2021, the standard ticket queue is 22 minutes and the fast track 10 minutes.
London Eye Experiences
The trick to eliminating wait times at the London Eye is to book the Experiences. My personal favourite is the Champagne Experience. While this ticket is slightly more expensive (at around a £10 premium on the Fast Track ticket) this type of ticket has many advantages for a more relaxed and pleasurable visit.
Can be booked same day (space permitting) without a ticket price premium
Smaller number of people will be sharing your pod than with the standard tickets
On arrival you wait in a lounge alongside the observation wheel and can have a glass of champagne included in the price
Good quality champagne, at time of writing this is Pommery Brut Royal, but can vary occasionally 
Your small group is met at the lounge by a member of staff and escorted directly on to a pod on the wheel, bypassing even the fast track queue
You have more space and better visibility in the pod because there are fewer people
You get another glass of champagne while in the pod
Exit is easy and painless once the ride is over, alternatively you might choose to visit the lounge after your visit to have a final drink
Summary
In summary, you can be waiting up to 2 hours at peak times, but can eliminate queuing entirely by booking a London Eye Experience.
I hope the above is helpful, let me know if you make it to London and use this advice to help you maximize your time and enjoyment of this top London attraction.