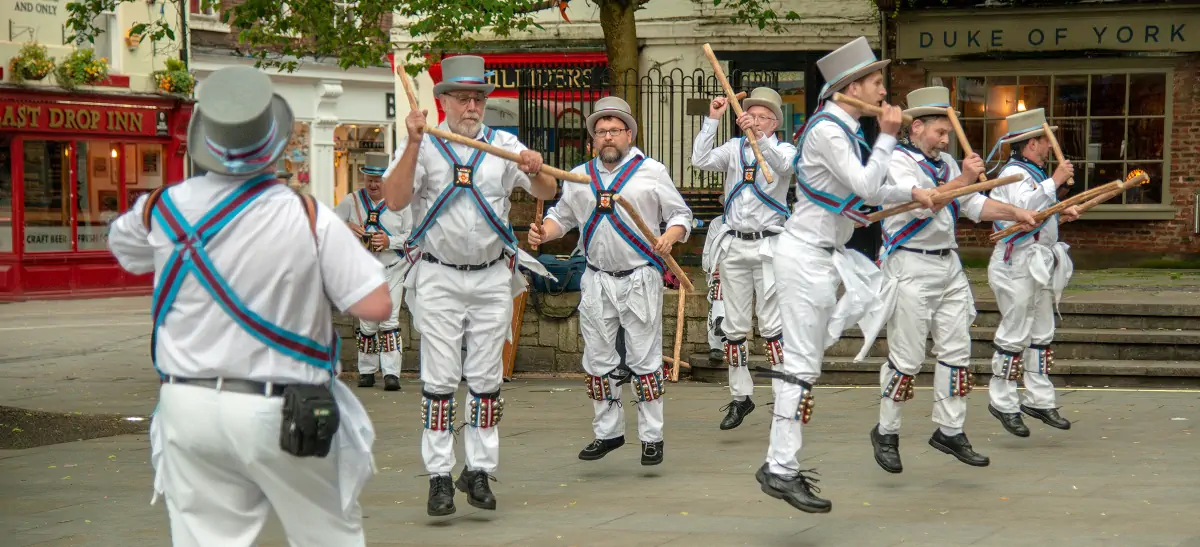 Complete list of UK celebrations
Celebrations in the UK include widely known festivals such as New Year's Eve, Easter and Christmas, as well as UK-specific celebrations such as Guy Fawkes Night and St Andrew's Day.
Birthdays
Birthdays are a major cause of celebration in the UK, with children and adults of all ages doing something special, receiving gifts from family and close friends and often presented with a celebration cake featuring the same number of candles as their age. Children may be given balloons and hold a party attended by their friends. Adults may take the day off work, or be taken to dinner by their spouse or partner.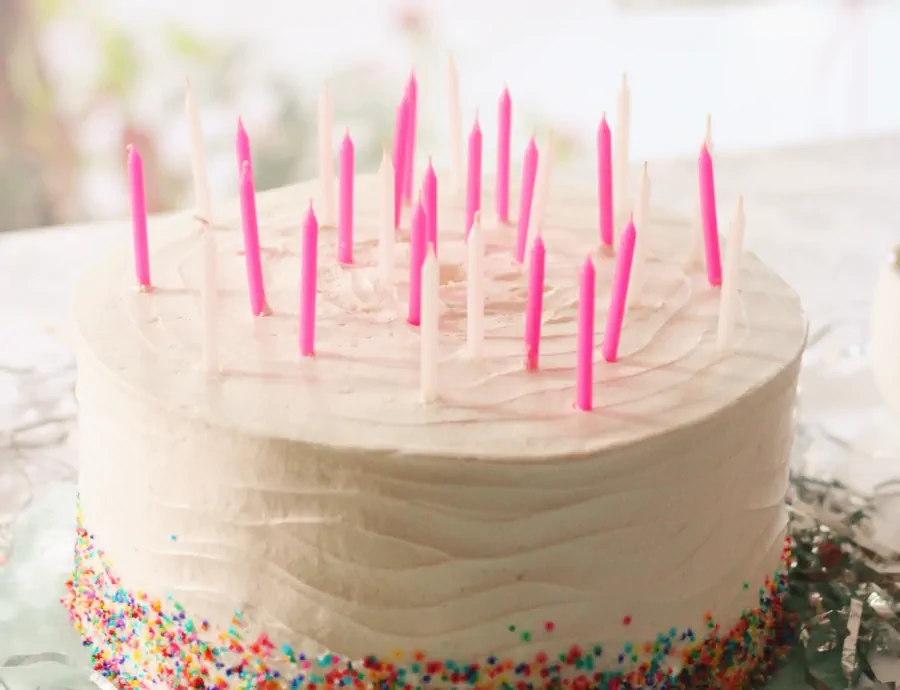 Veganuary, January
Veganuary is a modern event in the UK encouraging people to eat vegan food during the month of January. It was first run in 2014 and annually thereafter by a not-for-profit crowdfunded movement. Over 500,000 people sign up to take part in 2021 which the organizers claim saves 1 million animal lives and the CO2 equivalent to 450,00 flights. Major retailers and restaurant chains have also advertised in conjunction with the campaign and released vegan products at this time of year.
Burns Night, 25th January
Burns Night is celebrated in Scotland every year on 25th January, the anniversary of the birth of famous poet and bard, Robert Burns, in 1759. He was born in Ayrshire and died aged 37 in Dumfries, having risen to fame following the 1786 publication of an anthology of his work Poems, Chiefly in the Scottish Dialect.
A traditional Burns Night celebration is crowned by the Burns Supper, held among friends and family, or organized by a club or charity. The meal includes haggis, neeps and tatties (haggis, swede and potatoes), and scotch whiskey is almost always served. The events of the evening are choreographed, with the host's opening words followed by the reciting of the Selkirk Grace, there is an Address to a Haggis before the main course, and after the meal a Burns recital, a Toast to the Lassies, and a Reply to the Toast to the Lassies before the final recital and the signing of Auld Lang Syne.
St Dwynwen's Day (Dydd Santes Dwynwen), 25th January
Dydd Santes Dwynwen is an exclusively Welsh celebration of the 5th Century Saint Dwynwen, one of 36 daughters of an Irish king, and the Welsh saint of lovers, on 25th January each year. The date has increased in popularity over recent years, although not yet rivalling St Valentine's Day. On this date in Wales there are special events and the exchange of greetings cards.
London Fashion Week, February & September
London Fashion Week is held annually in the capital, in both February and September. It is a fashion trade show showcasing womenswear designers from around the country and attended by 5,000 fashion buyers and media representatives. While members of the public can not attend, the venues often provide off-show experiences that all can enjoy and there is also a London Fashion Week Festival held immediately after the event that is open to the public and features many of the same designers' products.
Shrove Tuesday, earliest 3rd February, latest 9th March
Shrove Tuesday is the last day before Ash Wednesday, the start of the period of Lent, which leads up to Easter. In the Christian tradition, Lent is a period of fasting, denying oneself pleasures and today involves "giving up" something up as a token of the spiritual preparation for the celebration of Easter. Shrove Tuesday was therefore the day on which some foods were finished and making and eating pancakes has become a symbol of this clearing of sweet foods. Shrove Tuesday is therefore also called Pancake Day and supermarkets are eager to sell the flour, sugar, lemon and so on that are used to make them.
Valentine's Day, 14th February
Valentine's Day is an annual celebration of romantic love and enthustiastically embraced by couples of all ages. While the origins centre on unattached, but hopeful, lovers using the day as an opportunity to woo their beloved, the modern celebration focuses on couples, whether married or not.
Traditionally small gifts will be given to each other by partners, including flowers and chocolates. Restaurants are often booked solid for the evening itself and the nearest Friday or Saturday night, sometimes with a special, set menu or minimum spend requirement. Champagne is typically served with the meal.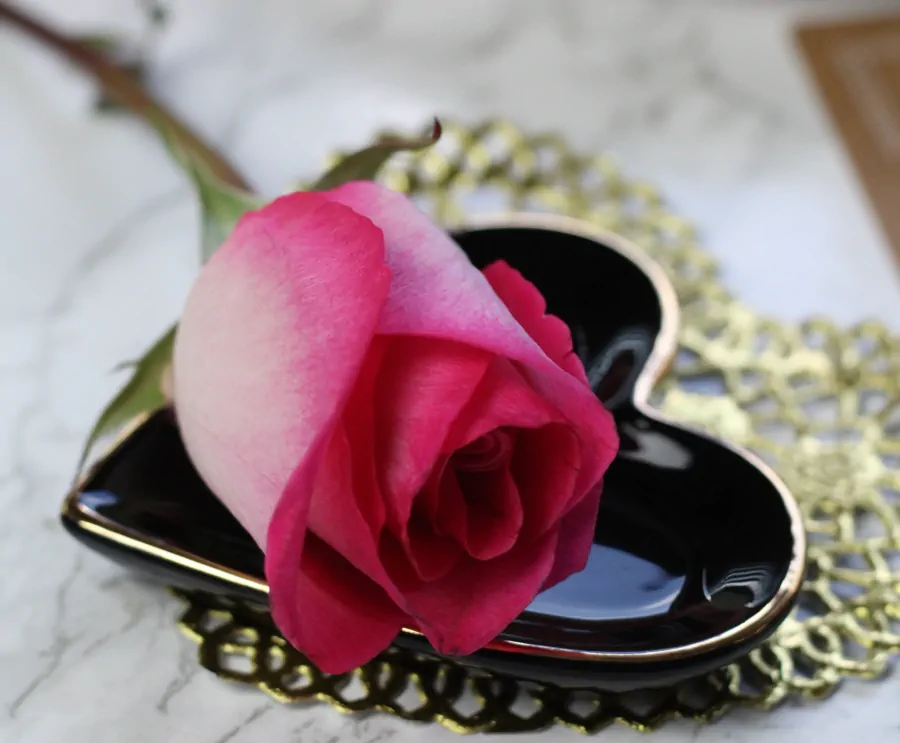 St David's Day, 1st March
St David's Day is the feast day of Saint David, the patron saint of Wales. St David was a 6th century bishop in Mynyw in the far west of Wales (now called St Davids and which is the UK's smallest city, with under 2,000 residents and an impressive cathedral built from 12th century onwards).
St David's Day has been celebrated throughout Wales since the 12th century, with current traditions including the wearing of leeks and daffodils, eating of traditional Welsh food such as Welsh Rarebit, and parades in major cities.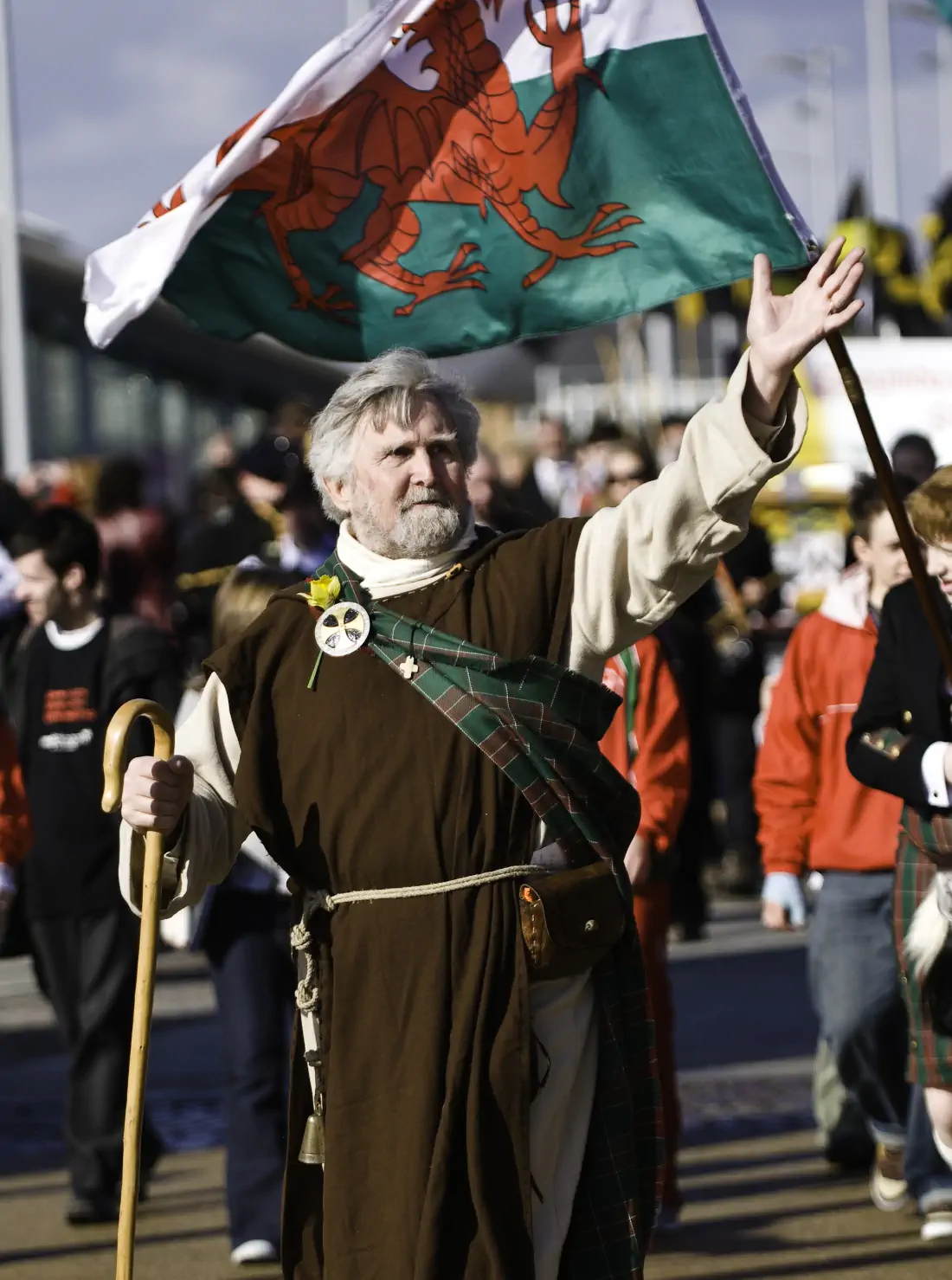 Mother's Day / Mothering Sunday, fourth Sunday in lent
Mother's Day is celebrated in the UK on the fourth Sunday of Lent (which starts on Ash Wednesday, the day after Shrove Tuesday). This is different to the US where it is celebrated in May. The origins of Mother's Day in the UK are the more ancient tradition of Mothering Sunday, the concept of Christians visiting their "Mother Church" on that day, that is the church in their place of origin, or to a cathedral or major parish church in a bigger town. At the mother church a service would be held to celebrate the coming together of families. Today, Mothering Sunday is more and more likely to be called Mother's Day and people celebrate and honour their mother, giving a card and flowers, enforced breakfast in bed made by her children, and by the children or men of the house making the meals, or at least taking mum to a restaurant or pub for a day off these activities. Younger children will normally be directed in school crafts time to make a card for the auspicious day.
April Fool's Day, 1st April
April Fool's Day is the 1st April each year and provides an opportunity to play tricks and practical jokes on others when it will normally be taken in good spirits. The date has no official standing, but nonetheless many individuals do get up to good-natured mischieve with close friends, loudly declaring "April Fool" at the victim. Newspapers and news organizations often devote one article on the day to a hoax - an entirely false, but amusing, story, leaving the reader to discover which article is the fake.
Easter, a Sunday between 22nd March and 25th April
Easter is the Christian celebration of the events leading to Jesus' execution and resurrection. Easter Day is celebrated on a Sunday between 22nd March and 25th April and is the day of Jesus' resurrection from the death he suffered on Good Friday, two days earlier ("on the third day he rose"). Christians will attend church on this day. Children are presented with large, hollow chocolate eggs (Easter Eggs) by their parents and grandparents. Traditional food eaten at Easter includes Hot Cross Buns, sweet bread buns with the shape of a cross on them, signifying the crucifix. 
Both Good Friday and Easter Monday, the day after Easter Sunday, are public holidays, giving the UK a four day weekend for many workers.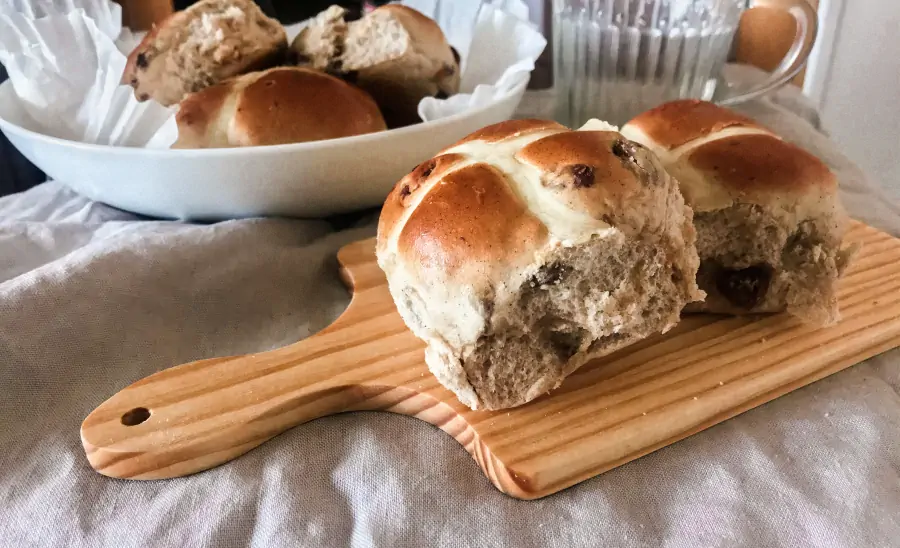 May Day, 1st May
May Day is a traditional English celebration that involves Morris Dancing, the crowning of a May Queen and dancing around a brightly decorated Maypole. The origins include the 2000 year old Roman festival of Flora, goddess of fruit and flowers, which marked the beginning of summer.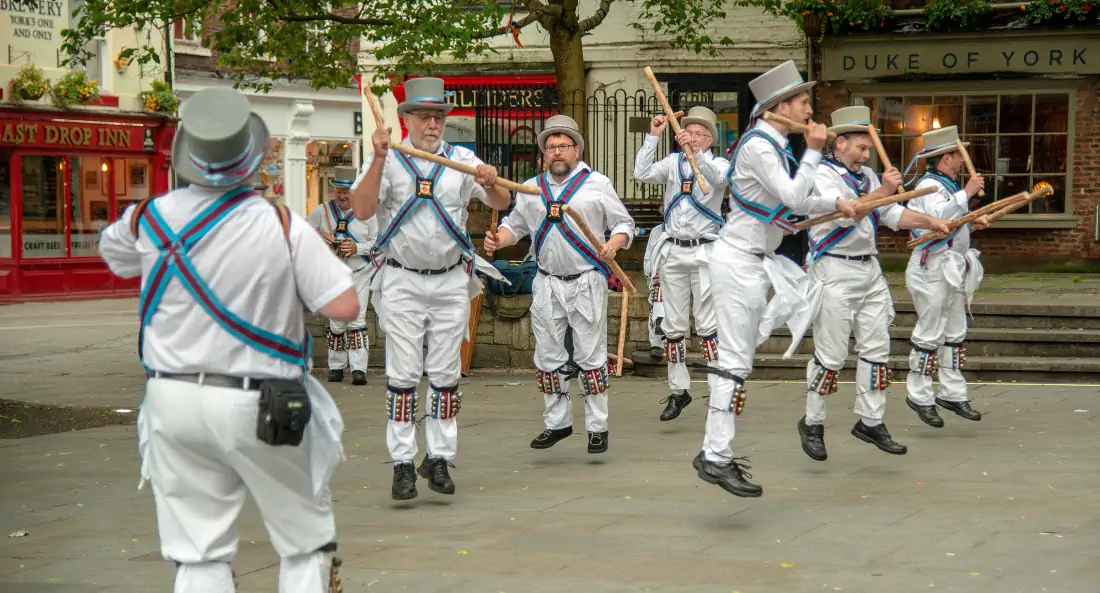 Maypole dancing is common in several European countries, and not always associated with May Day. The tallest maypoles are over 85 feet / 25 metres.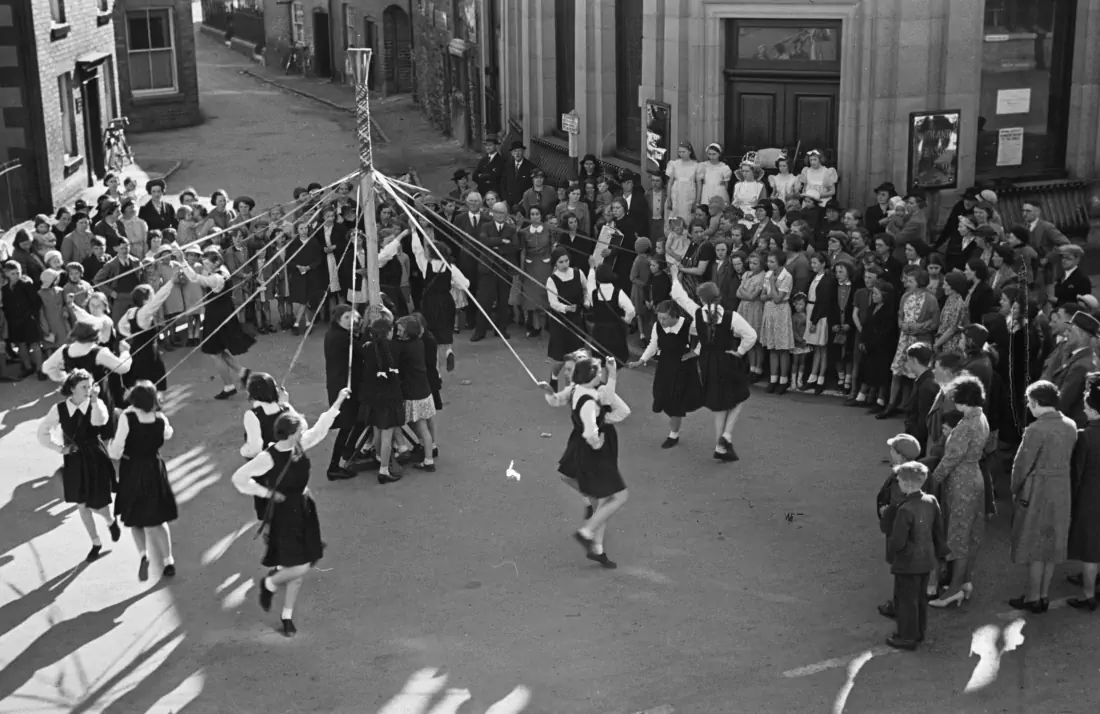 FA Cup Final, May
The FA Cup Final is the grand final of an annual knock-out football (soccer) tournament competed for every year by the approximately 300 English football clubs who are members of the Football Association. The first FA Cup was awarded in 1872. The FA Cup Final is held at the national home of football, Wembley Stadium. Despite smaller, lower division clubs having to play each other to qualify for later stages, matches still arise between well-known (and well-funded) football clubs such as Manchester United and Chelsea and small local teams of amateurs. The 2021 tournament featured a game between Tottenham Hotspur (who recently paid £1 billion for a new stadium) at the ground of Marine AFC, 161 places below them in the rankings, with only 389 spectator seats in their stands and locals watching from their back gardens.
Eid-Al-Fitr, dates vary
Muslims worldwide celebrate Eid-Al-Fitr, the "Festival of Breaking the Fast" at the end of Ramadan, the period during which fasting is required from Sunrise to Sunset. The timing of Ramadan varies each year according to the calendar. In 2021 Eid-Al-Fitr is 12th-13th May.
In the UK, the Muslim Council of Britain states there are 2.8 million muslims in the UK with the largest communities originating from South Asia, although 47% were born in the UK. This makes Muslims the second largest faith group in the UK. There is a long history of Muslims in the UK. In the 8th century, King Offa minted coins with Arabic script.
Eid is a time of celebration after accomplishing one of the most important religious duties: fasting during the month of Ramadan. People will visit friends and family, exchange gifts and celebrate with a large meal. Money for charity is raised, called Zakat al-Fitr, although it is recommended to give this before Eid so that those in need can benefit from it for the celebration of Eid. In central London, there is an Eid Festival held in the large public space of Trafalgar Square.
May Bank Holidays, May
The first and last Mondays of May are two of the so-called Bank Holidays in the UK, which are public holidays on which banks are not required to open. In practice it is extremely common for office workers and similar employees to be given the day off on both of these days.
Brighton Festival & Brighton Fringe, May
Brighton Festival is a month long festival of professional performing arts and culture, held in the seaside city of Brighton & Hove in May. Brighton Fringe is mostly an amateur effort, held at the same time since 1967, relying on charitable giving and admission fees to do its work. Together the festivals stage over a thousand events in formal performance venues, parks, schools and a large number of unusual spaces temporarily converted for the purpose.
Father's Day, third Sunday in June
Father's Day has been celebrated in the UK since the second half of the 20th century on the third Sunday in June each year. On this day fathers are honoured by their children but each family will decide how this is achieved.
Glastonbury Festival, June
Glastonbury Festival of Contemporary Performing Arts, more typically referred to as Glastonbury Festival, or even just Glastonbury, is a contemporary annual music festival taking place in Pilton, Somerset close to the town of Glastonbury which itself is known for historic buildings and settings including an iconic Tor, a tower on a conical hill. Despite being cancelled in 2020 and 2021 due to travel restrictions, it is expected the maximum allotment of 135,000 tickets will be sold again for 2022, normally within seconds of going on sale. The festival features very popular acts, headliners from recent years include Stormzy, The Killers, Radiohead, Muse, Coldplay, Kanye West. Camping on-site is part of the festival experience, with options ranging from a piece of ground, to glamping and trailers.
Summer Solstice, 21st June
The longest day of the year, 21st June, is celebrated, but not widely. The most visible celebration is at the Neolithic monument Stonehenge at sunrise where the sun rises at the Heel Stone in the north-eastern part of the famous circle. 10,000 gathered in 2019 for the event. Glastonbury Tor and the nearby Avebury Circle (Europe's largest Neolithic stone circle) both attract crowds, too. London Eye, the circular viewing platform, puts on flights to co-incide with the sunrise.
Edinburgh Fringe Festival, month of August
The Edinburgh Fringe Festival, a huge annual crowdsourced series of cultural events through most of August each year, has become arguaby more famous than the main Edinburgh International Festival of professional dance, theatre, music and opera, at whose fringes it has been held since 1947, although only formally organized since 1958.
The Edinburgh Fringe Festival staged 3,500 events in its 2019 edition in a huge variety of venues throughout Edinburgh, including theatres, schools, parks, pubs, shops, and even a hair salon. Its Fringe Days Out scheme gifts vouchers for events to disadvantaged communities further afield.
National Eisteddfod of Wales, first week of August
The National Eisteddfod of Wales is the most important of a number of similar annual traditional Welsh gatherings with a druidic feel. It consists of a series of music, dance, theatre, poetry and prose performances and competitions in the Welsh language, with elaborate prize giving ceremonies including the most prestigious "Crowning of the Bard". It is held in the first week of August in different locations at a large ground (maes) to allow for multiple venues, camping and parking. Each year it alternates between north and south Wales. It has its roots in a competition first held in the 12th Century. It attracts up to 150,000 visitors.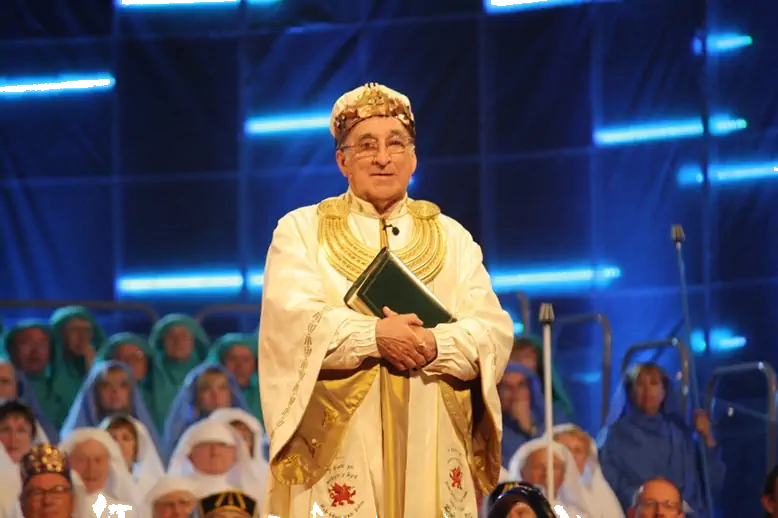 Notting Hill Carnival, last weekend in August
Notting Hill Carnival, held in this upmarket West London suburb, is a two day celebration of Caribbean music, culture and food held on the last weekend in August since 1966. Over a million people attend each year, with the central event being the parade of salsa and samba dancers in highly stylized costumes. Roads are closed in a wide area and street food vendors setup stall to cater to the crowds.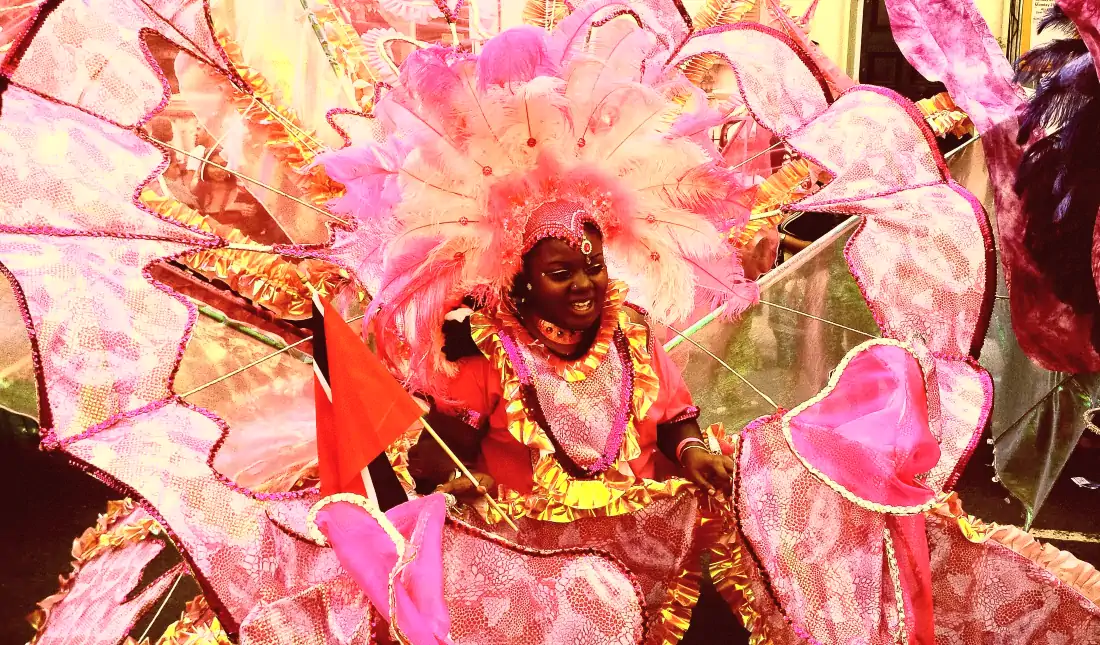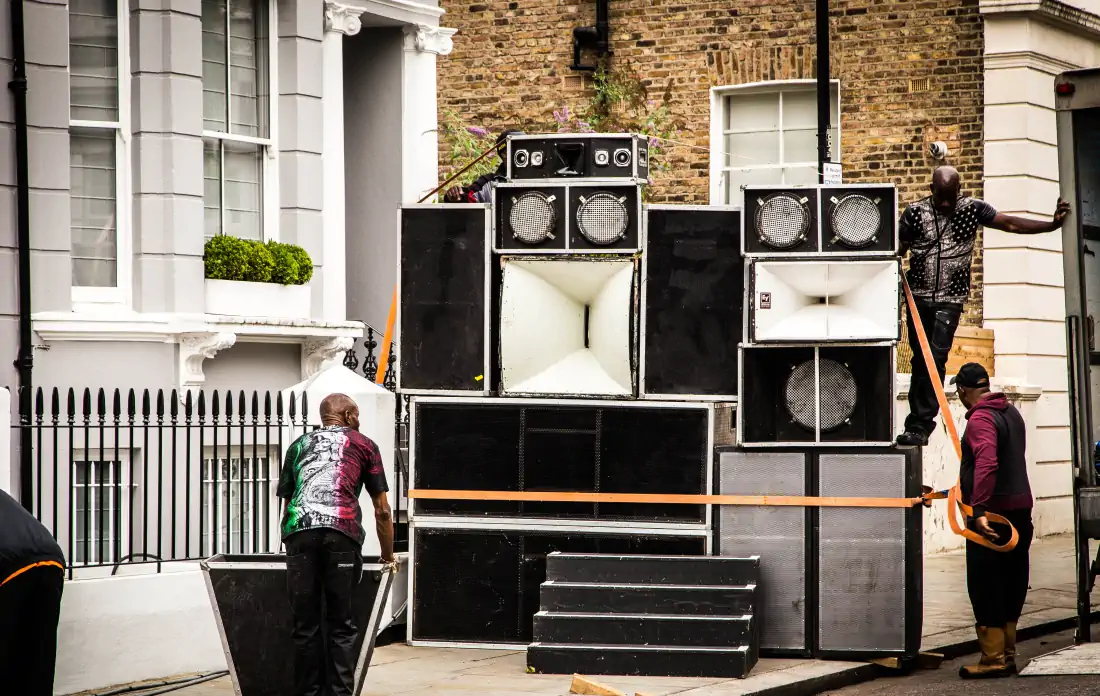 Halloween, 31st October
Halloween, a modern corruption of the religious date of All Hallows Eve, is the 31st October, the night before All Saints Day. It original meaning was as a commemoration of the faithful dead.
Halloween is strongly associated with children dressed in costume (often ghoulish) going from door to door after dark, asking each householder for a treat (sweets or candy) and issuing the threat of a trick to be played on them if they refuse, hence the familiar phrase trick or treat. The event has been celebrated in this way in the British Isles for at least four hundred years. Other activities include the carving of pumpkins and placing a tealight inside to make a ghostly image.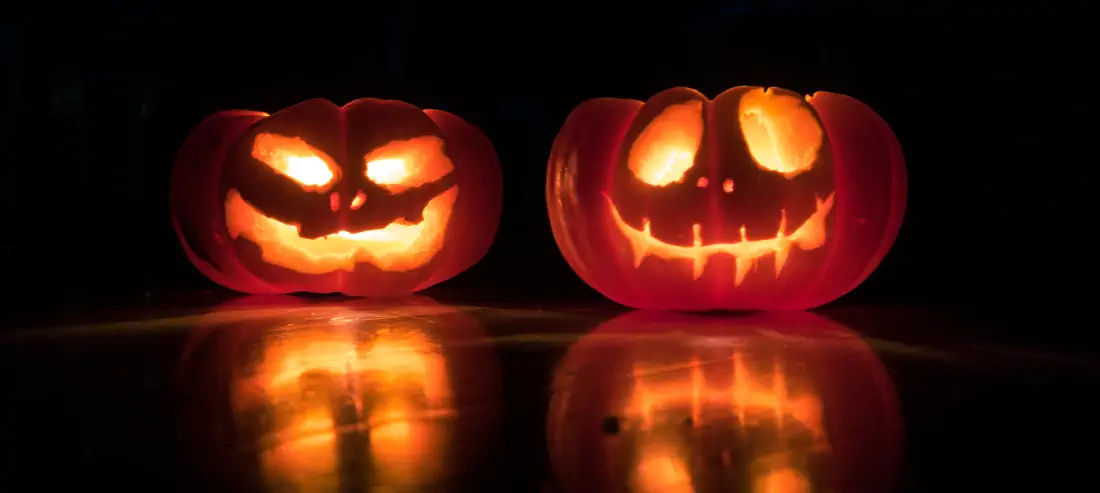 Sober October, the month of October
Go Sober for October, more commonly Sober October, is an annual charitable event in which people are encouraged to give up drinking alcohol for the month and instead support the work of Macmillan Cancer Support, a leading British charity providing support to sufferers of cancer and their families. Not even English wine is permitted when abstaining!
Guy Fawkes Night (Bonfire Night), 5th November
One of the biggest nights of the year is Guy Fawkes Night, otherwise called Bonfire Night or Fireworks Night. The annual event, observed on 5th November since 1605, commemorates the arrest of the Roman Catholic Guy Fawkes who had plotted to blow up Parliament and with it the Protestant King James I.
Click to read my full article on Guy Fawkes Night.
Throughout the country towns and cities hold events after dark consisting of a public torchlit parade of an effigy of Guy Fawkes through the streets to a suitable ground where the effigy is placed on a huge bonfire and burned, accompanied by a spectacular fireworks show. Lewes in Sussex arguably holds the most elaborate celebrations, the small town is home to several Bonfire Societies who compete with each other with separate parades and bonfires. 
Other activities include the making of a Guy by children, pulled around the streets in a cart with money being demanded from passers by, issuing the familiar phrase Penny for the Guy.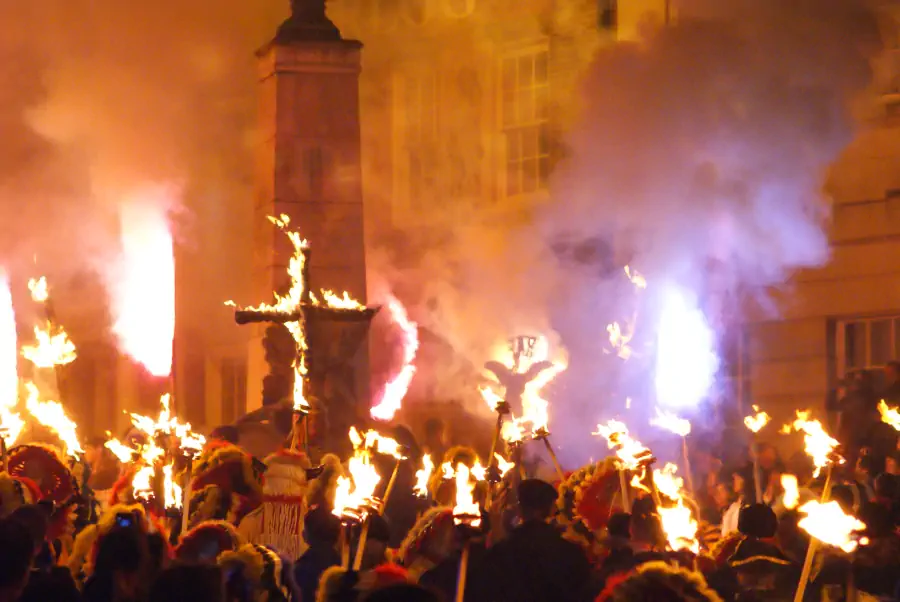 Remembrance Sunday, second Sunday in November
Remembrance Sunday is held on the second Sunday in November. It falls on or close to 11th November, which is called Armistice Day or Remembrance Day, being the anniversary of the ending of the First World War in 1918.
On Remembrance Sunday special services marking the loss of life in war are held at churches and war memorials throughout the country, including at the Cenotaph memorial in Westminster in central London, which is attended by veterans, dignitaries, members of parliament and the royal family.
In the days leading up to Remembrance Sunday people will wear poppies made by supporters of the Royal British Legion and sold to raise funds to support veterans of the armed forces.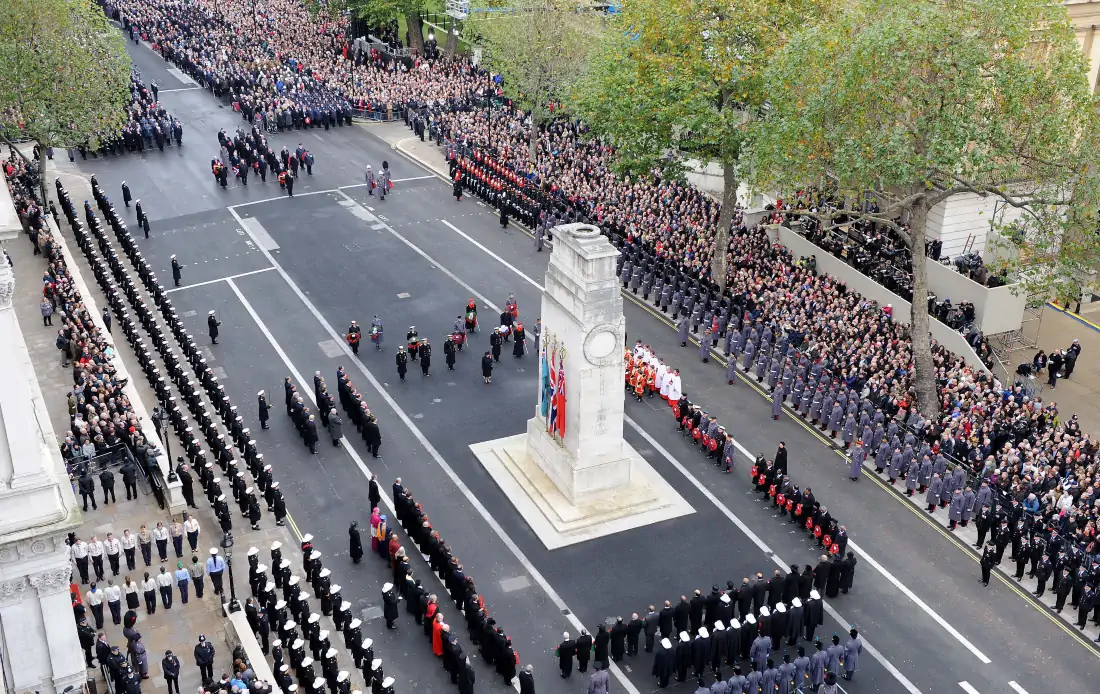 St Andrew's Day, 30th November
St Andrew, the patron saint of Scotland, is celebrated annually on his patron saint's day, the 30th November. Cultural events are held on the day, including dance, music and Scottish food to the fore.
Following the creation of a devolved parliament for Scotland in 1999, the Scottish parliament enacted the St Andrew's Day Bank Holiday (Scotland) Act 2007 which made the day a public holiday in Scotland. If the day falls on a weekend, the Monday after is taken instead. While employees do not have the right to time off, many employers do recognize it.
Lord Mayor's Show, second Saturday in November
The office of Lord Mayor of London was created 800 years ago, and each Lord Mayor is elected by representatives of the Livery Companies, ancient tradesmen's guilds. The Lord Mayor's Show is held the day after a new Lord Mayor takes office. The position of Lord Mayor is different to that of the Mayor of London, an elected position once held by UK Prime Minister Boris Johnson.
The Lord Mayor's Show consists of a parade of the Lord Mayor in his fine 18th Century gilded carriage (state coach) through the mediæval streets of the City of London, finishing at the Royal Courts of Justice where the Lord Mayor swears allegiance to the Crown. The parade is full of pageantry, with livery company, civic and charity workers, schools and the military all participating.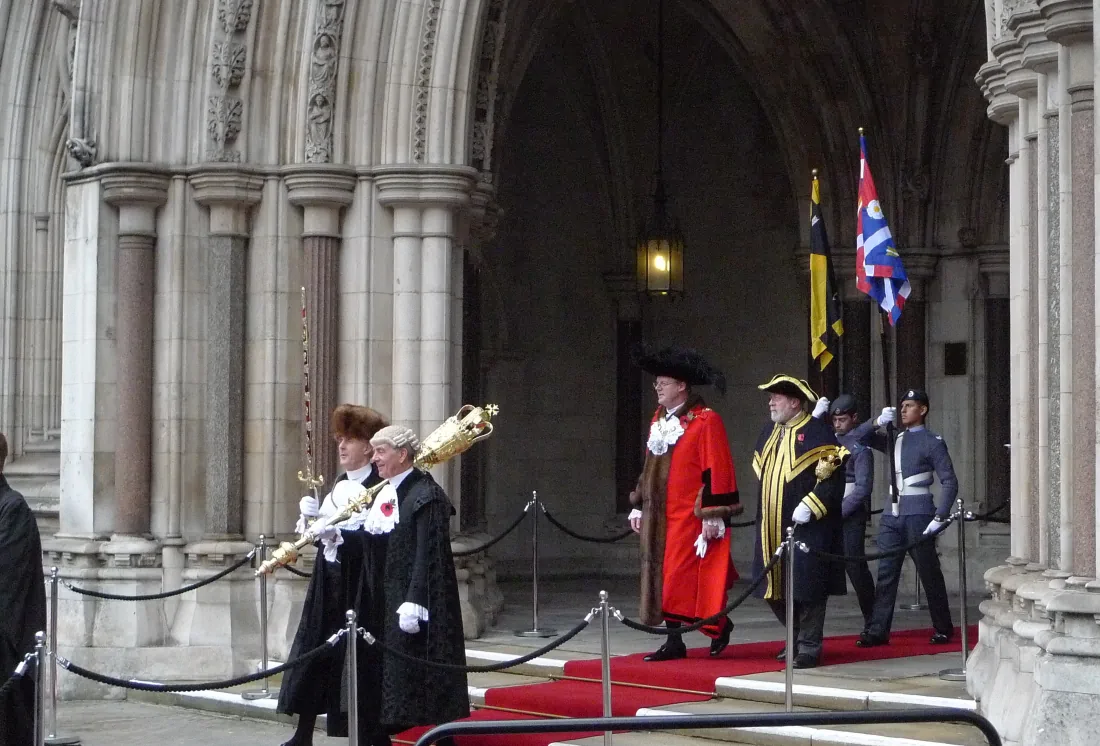 Movember, month of November
Movember is a men's health charitable cause of Australian origin, now active in several countries including the UK. Supporters grow a moustache throughout the month of November, in aid of promoting awareness and action to tackle issues including mental health & suicide prevention, prostate cancer and testicular cancer. Male supporters are called Mo Bros and women supporters Mo Sisters.
Christmas Day, 25th December
Christmas Day is arguably the most important day of celebration in the UK, with many traditional activities, including the decoration of a Christmas Tree, an evergreen tree in the main living room of the home, under which are placed presents that are opened on Christmas morning.
Santa Claus visits the night before Christmas, leaving presents for children who hang a large stocking for him to fill with small gifts, chocolate coins and a tangerine. Children will leave a mince pie and a sherry or other drink for Santa, and a carrot for his reindeer.
The Queen delivers her Christmas Broadcast to the commonwealth (Britain and many former colonies) which is broadcast in the afternoon, typically at 3pm and lasting around 10 minutes.
Many television shows have Christmas special episodes, whether these be comedy, soap opera, drama or game show.
Drinking and eating have become two of the most endulged activities in British households on Christmas Day. Christmas lunch is an enormous feast featuring a large turkey, roast potatoes, "pigs in blankets" and a dessert called Christmas Pudding which is covered with brandy and set on fire before serving alongside Brandy butter.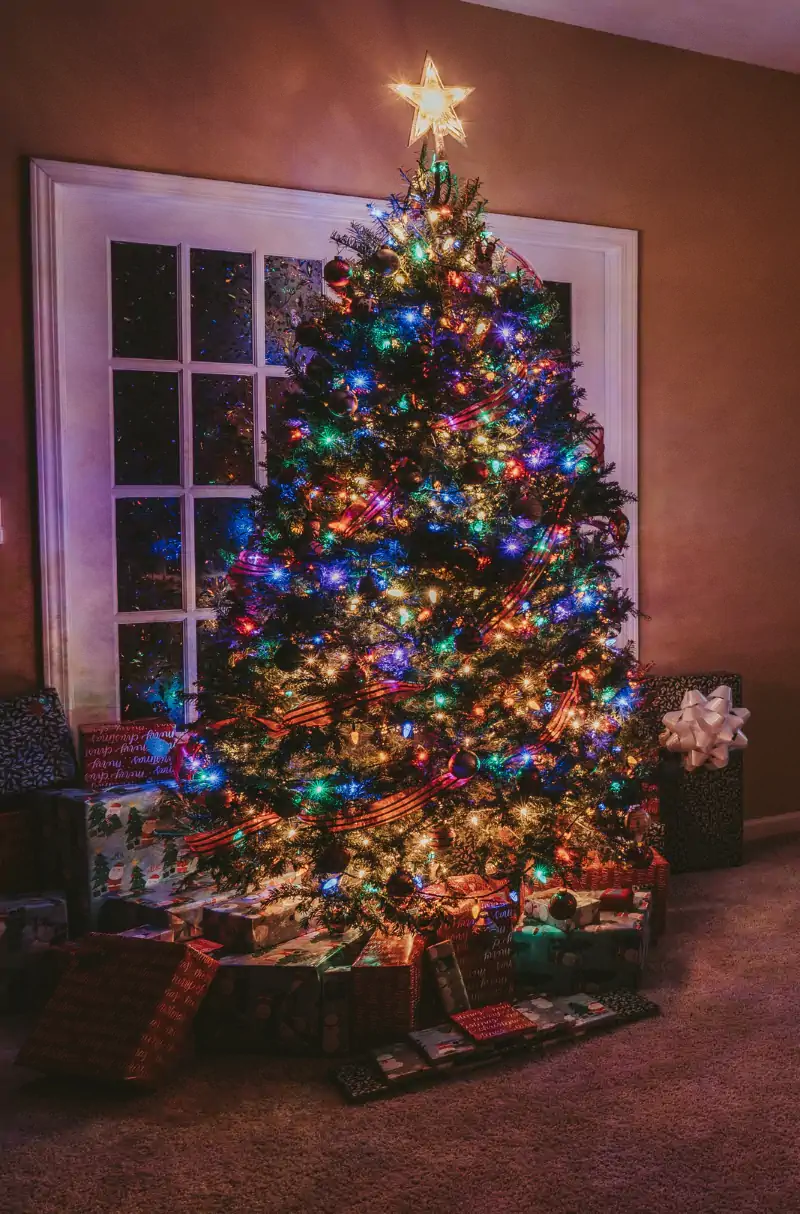 Boxing Day, 26th December
Traditionally, Boxing Day was the first day after Christmas when employers gave working people the day off to take boxes of gifts to their families. Today it is a public holiday, extending the period over which Christmas is celebrated. Given its proximity to New Year's Day on 1st January, many offices are closed for this whole period from 25th December through to 1st January.
New Year's Eve, 31st December
New Year's Eve represents the final celebration of the year in which people gather to welcome in the New Year, often with a glass of champagne, or attendance at an organized fireworks show that starts at midnight.
Hogmanay, 31st December
Hogmanay is the Scottish term for New Year's Eve, the last day of the year. Its origins are from the Viking celebrations of the winter solstice and the gaelic celebration Samhain. The event is still known for being particularly enthusiastically celebrated by Scots today. The song Auld Lang Syne is sung at midnight, the lyrics being from a Robert Burns poem of 1788, based itself on an earlier folk song and set to the tune of another traditional folk song. Despite its Scottish origins, the song is now commonly sung in England, Wales and Ireland and around the world.